Joanna Shows remembers what it was like to be held back, just because she was a woman.
In the late 1940s, she told her college advisor that she wanted to be a world history teacher. He told her to stick to something "more appropriate for a woman," insisting she could not possibly teach world history because she had not fought in any war.
The rebuke stung.
"It was that moment, and I think everyone has those moments, when I knew I wanted to do something to level the playing field," Shows said.
To level the playing field, Shows, a retired Lake Braddock world history teacher, launched the annual American Association of University Women (AAUW) Diversity Awards ceremony for the Springfield-Annandale AAUW chapter.
"The community should be proud to know many high school girls, on a significant level, are consistently working to promote better understanding and appreciation of the differences among people in our society," Shows said.
This year's awards went to four high school juniors, who received grants from Apple Federal Credit Union. The ceremony was held Thursday, April 26, at the Braddock Hall in Burke.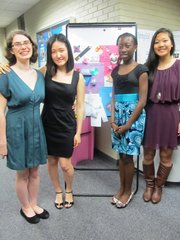 The Winners:
*Alishia Sampene – Annandale High School
Sampene works with fourth graders at Bren Mar Park Elementary School. "I help with their homework, and I love the fact that they only look at inside of a person, not at the outside," Sampene said. She also tutors students in Friends from Ghana two to three times each week. "I try to challenge them to make friends and give a helping hand," she said. "I like to teach that when you give, it will be given back to you."
*Emily Domingue – Lake Braddock Secondary School
Domingue, who has traveled the globe with her military family, recently lived in Indonesia before enrolling at Lake Braddock last year. "I went to an International School where there were most Korean students, so I was the minority. Diversity is such an amazing thing to me," she said. To support various nonprofits that emphasize cultural diversity, she creates and sells origami art. She also created wristbands to help flood victims from Indonesia.
*Sophia Kim – Robert E. Lee High School
Kim volunteers her time with a social and recreation club that helps teens with special needs that meets at Washington Irving Middle School.
"It's a very diverse group. The students have taught me to be open-minded, and open my eyes to all the great people around me."
*Ji Young Lee –West Springfield High School
Lee volunteers her time giving tours with the Smithsonian's Korean Arts Foundation. Since 2010, she has given tours to promote the culture and language of Korea.
"It's thrilling to think of people walking out of the tours with new information," Lee said. "I give tours to all ages and nationalities – children, bored teens, adults, and grandparents, who usually give me a treat. It's a wonderful way to broaden people's views on other cultures."