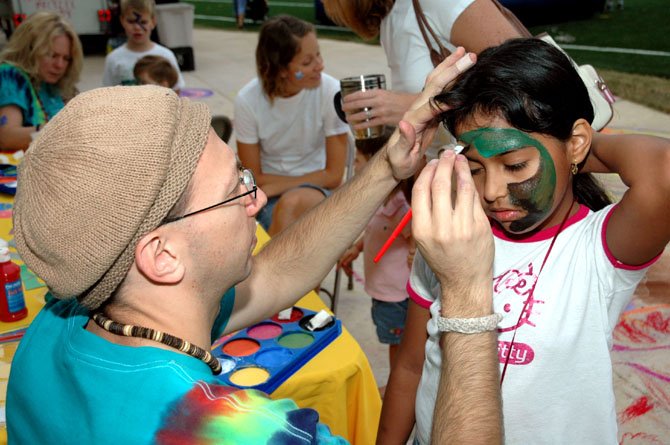 From picnics to pony rides, Arlingtonians are gearing up for another great Neighborhood Day! On Saturday, May 12, neighborhoods from Bluemont to Dominion Hills will connect residents at events throughout the County.

As a prelude to the Neighborhood Day festivities on May 12, visit Joint Base Myer-Henderson Hall for the Twilight Tattoo event on Wednesday, May 9, beginning at 6:45 p.m. Twilight Tattoo is an hour-long military pageant featuring Soldiers from the 3rd U.S. Infantry Regiment (The Old Guard) and The U.S. Army Band "Pershing's Own." The performance is free and open to the public. Bleacher seating is on a first-come, first-served basis. Event parking will be in the parking lots off Jackson Avenue, near the Fort Myer Officers Club and Caisson Stables. Call 703-696-3283.
2012 Neighborhood Day Events:
Ashton Heights Yard Sale
8 a.m.-Noon, Ashton Heights
Sponsored by the Ashton Heights Civic Association
Dozens of homes will be participating with yard sales featuring children's toys and clothes, furniture, books, kitchen equipment, and more. Go to http://ashtonheights.org/for a map to all the homes. Some yard sales may start a little later than 8 a.m. and some run a little later than noon.
Emergency Preparedness Canvassing in the Nauck Neighborhood
8:30 a.m.-Noon, Bonder & Amanda Johnson Community Development Corporation (2229 South Shirlington Road, Arlington)
In promoting community preparedness, several volunteers will canvas the Nauck Neighborhood. Kids are invited to attend and enjoy balloons and face painting. The event is hosted by Volunteer Emergency Support Team (VEST) and Medical Reserve Corp (MRC) in collaboration with Bonder and Amanda Johnson Community Development Corporation (BAJCDC). Interested volunteers, contact Grelia Soliz at 703-228-0711 or gsoliz@arlingtonva.us.
Save Lacey Woods from Plant Invaders!
10 am-Noon, Lacey Woods Park
Sponsored by Arlington Regional Master Naturalists
Join the neighbors of Lacey Woods as they restore the area's natural plant communities. Help remove plants like English ivy and bush honeysuckle, which threaten the health of Arlington's parks and natural areas. Wear clothes that can get dirty, including long pants, long sleeves, sturdy shoes, a hat and bring garden gloves and tools and a reusable water bottle if they are available. Some supplies will be provided. This event is for ages 9 to adult. Volunteers under 16 must be accompanied by an adult throughout the event. Contact Sarah Archer at 703-228-1862 or sarcher@arlingtonva.us.
"Among Women" Expo
10 a.m.-3:30 p.m., Gates of Ballston Community Center (4108 4th Street N, Arlington)
Arlington's Community Outreach Program will host a day for women that will include a wide range of programs such as a self-defense class, an arts and crafts project, and sessions on how to maintain healthy relationships. Marga Fripp, founder and president of Empowered Women International will be the featured speaker. Call 703-228-1317.
Highland Park-Overlee Knolls Family Fun Day
10 a.m.-Noon, Westover Library
Sponsored by the Highland Park-Overlee Knolls Neighborhood Association
Families are invited to enjoy fun activities just outside of the Westover Library, including a visit from a local fire station, a giant moon bounce, and fitness activities such as jump rope, hula hoop, and hop scotch. All ages welcome! Contact Laurian Eckle at laurian.eckle@sum2sea.com.
Fairlington Great American Cookie Bake Sale
11 a.m.-2 p.m., Fairlington Community Center
Share Our Strength's Great American Bake Sale will be represented at Fairlington Center with home-baked cookies donated by residents will be sold to benefit the Great American Bake Sale. The bake sale is sponsored nationally by Share Our Strength, a non-profit dedicated toward eliminating childhood hunger in America. Everyone can bake a difference! Contact Cathy Malin at 571-480-9260 or arniemalin@gmail.com.
Fairlington Day
11 a.m.-2 p.m., Fairlington Community Center
Fun, food, and friendly people just a short walk from your Fairlington home! Join your neighbors for an old-fashioned, family-friendly festival on the grounds of the Fairlington Community Center. Enjoy games, pony rides, a moonbounce, arts and crafts, music, and loads of fun and food! Contact Rosalind Jordan at 202-631-1731 or president@fca-Fairlington.org.
Claremont Community Cookout
11 a.m.-2 p.m., Claremont Mini Park (4700 23rd Street South Arlington)
Join in the fun at the Claremont community cookout in the Claremont Mini Park (4700 23rd Street South, Arlington), with family-friendly games and activities for Claremont residents, moon bounce, invited guests and special events. Email cca-board@hotmail.com or call 703-399-9144.
North Highlands First Responders Appreciation Picnic
11 a.m.-2 p.m., Dawson Terrace Park
Guests are invited to bring food to eat and to share, as well as blankets and lawn chairs to participate in the community picnic. Hot dogs will be provided. Enjoy games such as basketball, wiffle ball and soccer. Also, guests can volunteer to help maintain the nature trail. Email spotbarone@gmail.com or call 703-909-0871.
Bluemont Spring BBQ at Firehouse # 2
11:30 a.m.-1:30 p.m., Firehouse # 2 (4805 Wilson Boulevard, Arlington)
Sponsored by the Bluemont Civic Association
Bluemont residents, children and visitors are invited to the annual Spring BBQ. Tour Firehouse #2, meet Bluemont neighbors, and enjoy delicious food. Contact Judah dal Cais at 703-528-1551 or president@bluemontcivic.org.
'Arlington Kids Read' Community Read-a-Thon Kickoff
2 p.m.-5 p.m., Central Library
As a kick-off the Read-a-Thon and the campaign, The Reading Connection and Arlington Magazine are sponsoring a festive afternoon of reading. There will be continuous read-alouds, crafts and treats for all. Kids can pick up their Read-a-Thon log books and get more information about how to track their time spent reading. More information about the Community Read-a-Thon will be provided at the event, and can be found online at www.arlingtonkidsread.org. Arlington Kids Read is made possible by a $20,000 donation by Verizon.
Dominion Hills Neighborhood Day Festival and Potluck Supper
4 p.m.-7 p.m., Dominion Hills Park (1060 N. Liberty Street, Arlington)
Enjoy a fun-filled day at the community-owned Dominion Hills Park with neighbors with a moon bounce, face painting, games, prizes and free sno cones. A concert band will perform a free show and a deejay will keep the crowd entertained. Free burgers and hotdogs prepared by Dominion Hills' Finest Grillmasters! Guests are invited to bring a salad, favorite dish or dessert to share. Contact Brian Hannigan at 703- 625-3433 or bhannigan1@aol.com.
Luau Night!
5 p.m.-8 p.m., Arlington Community Church (6040 Wilson Boulevard, Arlington)
All families are invited to join this luau night of fun at Arlington Community Church. With dinner, games, a magician, and a movie, this night is sure to be a blast for the whole family! Free admission! Register to attend at www.accweb.org. Email info@accweb.org or call 703-533-9874.
Family Fun Night at TJ
6:30 p.m.-8:30 p.m., Thomas Jefferson Community Center
Guests can participate in a variety of activities during Family Fun Night, including an inflatable obstacle course, rock climbing wall, moon bounces, sports games, face painting, family bingo, art projects and more! Register by calling 703- 228-4747 or online at registration.arlingtonva.us and reference Activity Code 970004.
Teen Night at TJ CafÈ
9 p.m.-11 p.m., Thomas Jefferson Community Center
For just a $2 entry fee, middle and high school students in Arlington get access to a night of fun, including basketball, soccer, ping pong and pool tables. For an additional $3, guests can purchase an activity card for access to the rock wall, inflatables, giant human hamster balls and roller skating. Food will be available for purchase. Contact Kevin Clements for details at 703-228-4729 or kcleme@arlingtonva.us.
Stamp Out Hunger Food Drive
To participate in the food drive, leave a bag of non-perishable food at your mailbox on Saturday, May 12. Your letter carrier will collect the food and deliver it to the Arlington Food Assistance Center. AFAC provides food for 1,600 Arlington families each week and the Stamp Out Hunger food drive is the organization's second largest food drive each year. Email volunteer4afac@afac.org or call 703-845-8486.