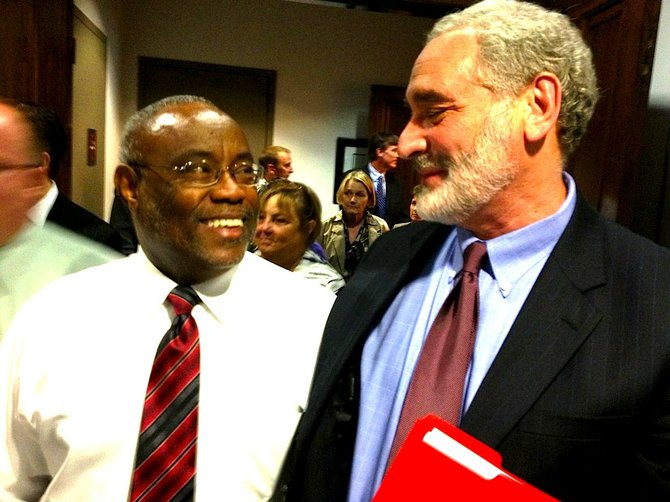 New Spending
$532,000 for traffic calming measures

$500,000 to increase pay for city employees

$400,000 to increase salaries for public-safety officers

$125,000 for one additional school-based preschool class

$85,000 to fund a position providing services though the city's gang-intervention program

$83,000 to restore advertising campaign by Alexandria Economic Development Partnership

$65,000 to offset lost state aid for the city's teen clinic

$70,000 to restore funding Senior Taxi reservation services

$57,000 for restoring Healthy Families funding cut by the state

$50,000 to extend library hours

$40,000 for Sunday delivery of Meals on Wheels

$31,000 for new banners along King Street
Taxpayers can expect to pay more money now that members of the Alexandria City Council have adopted a tax rate for the coming year that will increase the average residential property tax bill by $52. This week's vote on a $588 million spending plan for fiscal year 2013 was a culmination of months of horse trading and animated speeches, a season that included everything from criticism of the school's "dysfunctional" budget office to Sunday delivery of Meals on Wheels. In the end, council members stayed in the black while avoiding a tax rate hike by dipping into the fund balance.
"I wish we could have done more, especially in terms of restoring several items for the most vulnerable," said Mayor Bill Euille. "But we feel that we are being responsive to meeting some of those challenges."
In the final days of budget negotiation, City Council members were pressed by School Board members and parents to restore $1.2 million, which was allocated to the school system by the General Assembly but taken by council members to balance the books. That puts the allocation to Alexandria City Public Schools at $180 million, sending School Board members scrambling to find alternative ways to fund a $1.75 million state-mandated salary increase and a $110,000 preschool coordinator position.
"A lot of people are saying that this council is not committed to the schools," said Councilman Frank Fannon. "I beg to differ."
"This puts us in a deficit funding position," responded Superintendent Morton Sherman said after the final work session. "So the School Board is going to have to take action."
CITY COUNCIL members added about $2.3 million to the budget City Manager Rashad Young proposed back in February. Some of that money came from revenue re-estimates, although about $1 million came from the fund balance, a pool of money budget officials describe as a "rainy-day fund." During the final budget work session, Young said he didn't see any problems with dipping into the savings account this year, although he expressed concern about using the technique again in future years.
"This is not breaking the bank," said Young, who became city manager in December, "But if this were to increase over time, that would cause me some heartburn."
"I'm concerned we're setting a precedent that will make it difficult to maintain our AAA bond rating," said Councilman Rob Krupicka, who voted for the budget but against the tax rate. "This makes it harder for the next City Council to balance the budget."
Council members added almost $1 million to increase salaries of city employees. One items was a $400,000 expenditure to increase pay for the city's public safety agencies, an effort city leaders say will bring Alexandria more in line with pay practices of other jurisdictions. Another addition council members tacked onto the city manager's proposal is a $500,000 boost that will create career ladders and promotions for city employees across the organization. Several of the elected leaders say it was time for city employees to get a raise.
"We appreciate their hard work," said Councilwoman Del Pepper. "But, you know, you can't eat on praise."
Vice Mayor Kerry Donley praised Young's $300,000 proposal for a new Office of Project Implementation, which is designed to carry out high-priority capital projects. These include Potomac Yard, Landmark Mall and potentially the waterfront plan, if a contested zoning change is approved in the courts. Some have already taken to calling the new position the "implementation czar," although nobody has been hired to lead the new office yet.
"It's vastly overdue," said Donley. "We have master plans for our master plans, and we need to make sure someone is out there implementing these documents."