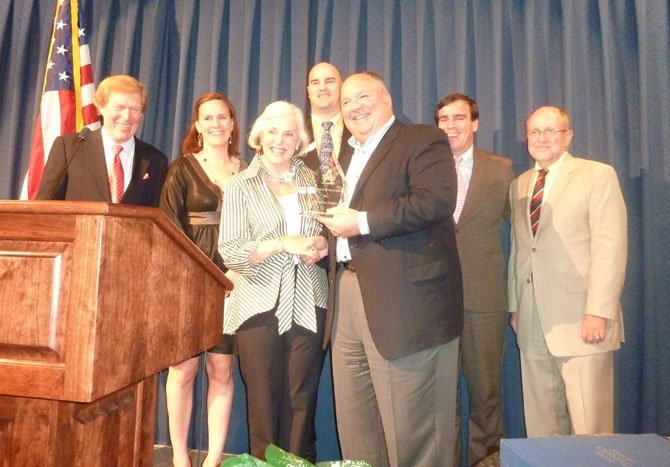 For four days, thousands of Alexandrians came together for the 5th Annual Spring for Alexandria, a citywide weekend of events that focuses on giving and service throughout the community.
Co-sponsored by ACT for Alexandria, Volunteer Alexandria, the Alexandria Jaycees and the City of Alexandria, the series of events kicked off May 2 with Spring2Action, a 24-hour online donation drive that raised $320,000 for local charities.
"We are thrilled with these results," said ACT Executive John Porter. "Not only did we increase the funds raised for local charities but we also engaged new donors and brought awareness to philanthropy throughout the city."
The following day, more than 300 people turned out for the ACT Generations of Giving Gala at the U.S. Patent and Trade Office. The '60s themed event honored Patsy Ticer with the Legacy of Service Award and the Ariail Family with the Legacy of Giving Award.
May 4 began with 300 community leaders attending Volunteer Alexandria's Business Philanthropy Summit breakfast at First Baptist Church. Honored were BB&T as the Large Philanthropy Business of the Year, Simpson Development as Local Philanthropy Business of the Year, Janet Barnett of Senior Services as Nonprofit Leader of the Year and Kim Fiske as Board Leader of the Year.
Following the breakfast more than 600 volunteers participated in a day of service, donating time at sites across the city performing necessary upkeep and repairs.
The weekend wrapped up May 5 with the Jaycee-sponsored Community Contributions Day at Mount Vernon Recreation Center, where donations were made to organizations like Goodwill, Habitat for Humanity and ALIVE!
Throughout the four-day event, the all-youth run Kids Helping Kids organization hosted lemonade stands throughout the city, culminating with Lemonaide Day on May 5.
"This year has been a great success for everyone," Porter said. "We certainly exceeded our goals and are already looking forward to next year."