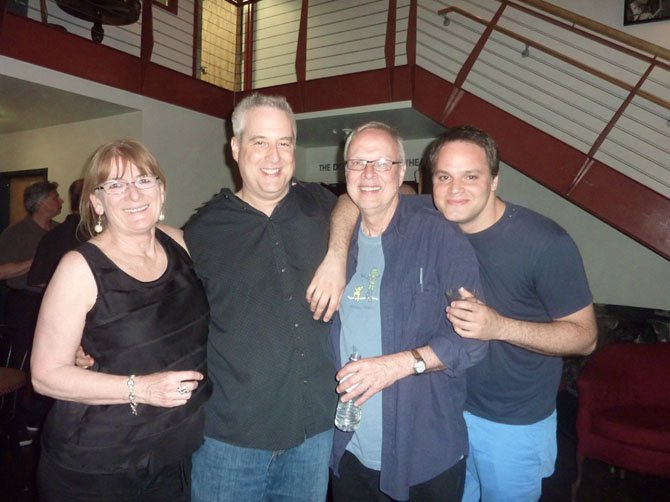 Alexandria — Like the American city where Steven Dietz's "Lonely Planet" takes place, the disease paralyzing the gay community with fear remains unnamed in the powerful and moving production of the award-winning work now playing at MetroStage in Alexandria.
Told through fanciful, game-playing dialogue, the AIDS play that never mentions the word is a story of two men who ponder friendship and death within the sheltered confines of a map store.
Poignantly realized in the performances of Michael Russotto and Eric Sutton and under the expert direction of John Vreeke, "Lonely Planet" is about two gay friends: Carl (Sutton), a flamboyant man with a vivid imagination and ever-changing occupations; and Jody (Russotto), a quiet and cautious man who lives in fear of venturing outside the map store that he owns.
Afraid to venture out in the world and get tested for AIDS, Jody immerses himself in his maps as Carl turns up time and again toting seemingly random chairs that begin cluttering the shop. With a maddening habit of describing his imaginary jobs, Carl insists on storing chairs there as Jody's frustration and isolation grows.
It is only as the play evolves that Jody and the audience learn that both chairs and occupations once belonged to friends who have died, an increasing reminder of everything Jody is laboring to forget: the horrors of disease and the fact that he has yet to be tested for H.I.V.
"I have wanted to do this play for years," said Russotto at the opening night reception May 13. "I didn't think I'd ever get the chance but then Carolyn [Griffin] and John called. I've done many shows with John and known Eric for years so this is a dream show for me."
Russotto and Sutton brilliantly sustain a verbal tug of war and create a powerful friendship based on need, comfort and strength.
Sutton is a tornado of energy as Carl, who is trying to memorialize his friends in some way. As the map store steadily fills with chairs, Carl gets Jody to confront his fears and leave the shop to get tested for H.I.V.
Russotto's Jody is more subtle and indirect, delivering a performance full of effective silences in his many monologues. The two actors make the friendship credible and engaging.
"Lonely Planet" is perfectly cast with a handsome set by Jane Fink and piercing lighting effects provided by Jessica Lee Winfield, notably in the final scene where Jody returns to his shop to find Carl's favorite chair sitting in the store.
"This is a timeless and universal story, maybe even more important today than it was in 1995," Griffin said.
By examining a relationship between friends and not lovers, Dietz has crafted a haunting memorial to lives lost, and the MetroStage production of "Lonely Planet," with deep reflections of grief, denial and struggle, is a poignant reminder that the fight against AIDS is not over.
With a superb cast and poignant message, "Lonely Planet" is a must-see end to the MetroStage season.
"Lonely Planet" is playing now through June 22 at MetroStage, 1201 N. Royal St., Alexandria. For tickets or more information, call 703-548-9044 or visit www.metrostage.org.