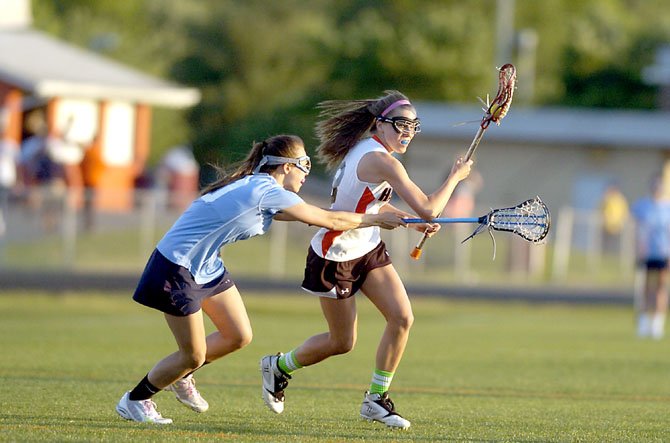 Springfield — Hayfield girls' lacrosse teammates Paige Jurado and Leah Brennan kneeled on their home field after the National District tournament championship game against Yorktown and comforted one another with a hug. Head coach Sarah Burrowbridge's eyes welled with tears as she experienced a new level of frustration.
Yorktown defeated Hayfield, 9-8, in sudden-death overtime on May 10, capturing its seventh consecutive district title. The Hawks held a 6-2 halftime lead and a one-goal advantage during the second overtime period, but couldn't fend off the Patriots.
"It's nothing like I've ever felt losing to Yorktown before."

— Hayfield girls' lacrosse coach Sarah Burrowbridge
After regulation ended in a 7-all tie, the teams played a pair of three-minute overtime periods. Neither team scored in the first period, but Hayfield grabbed an 8-7 lead when Emily Ryan scored with 1:16 remaining in the second. However, Yorktown's Kristen Somers scored 11 seconds later and the teams would head to sudden death, where Yorktown's Meaghan Galvin deposited the game-winner.
"Just frustrated," is the way Burrowbridge described what she was feeling after the game. "It's nothing like I've ever felt losing to Yorktown before."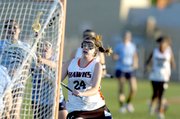 IN THE THREE SEASONS since moving to the National District, Hayfield has reached the district final each year only to lose to the Patriots. This season, Hayfield beat Yorktown during an undefeated run through the district, earning the Hawks the No. 1 seed and the right to host the tournament final. Despite its top three offensive players being sophomores, Hayfield put itself in a position end Yorktown's run of district crowns, only to suffer a heartbreaking loss.
"The frustration feels like [a product of] it could have been anyone at the end, and we're the ones that haven't gotten it in so long," Burrowbridge said. "That's where I feel frustrated. It's not a frustration [about] the way my team played, at all."
Ryan led Hayfield with three goals. Brenna Thomas and Brennan each had two, and Mara Dorsey had one. Burrowbridge and Yorktown head coach Crystal Morgan praised the performance of Hayfield sophomore goalkeeper Jackie Bonfiglio.
"Jackie had an incredible game," Burrowbridge said. "… She dug deep and I thought she played excellent. She had a ton of free positions coming down her throat and she had a great game."
Brennan (midfield), Ryan (attack) and Dorsey (midfield) are each sophomores who earned first-team all-district honors. Senior defender Kyra Pruitt was also a first-team selection.
Burrowbridge had high praise for Brennan.
"I played top-10 DI lacrosse (at William & Mary), played in high school on a really winning team in [New] Jersey," she said, "and she's the hardest working child I've ever seen."
HAYFIELD RESPONDED to the loss by defeating West Springfield, 10-7, on May 15 in the opening round of the Northern Region tournament. The Hawks will face Concorde District champion Oakton on Thursday, May 17.
"We said all that matters is how we play at the end of the season," Burrowbridge said. "As a coach, I'm extraordinarily proud of the way they played at the end of the season."