Over the course of a weekend, guests at the 59th Annual Azalea Garden Festival at Landon School were invited to take part in a variety of events including shopping at the specialty boutiques, touring the "of Landon, by Landon" art exhibit, and viewing the musical performances on Miniter Quad.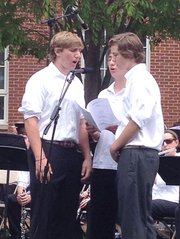 On Saturday, May 5, The Landon Symphonette entertained the crowds when they joined Landon's Chamber Singers and Holton-Arms' Upper School Chorus in a medley of Journey's "Anyway You Want It" and "Don't Stop Believing" as seen on the television show Glee. Freshman performer Parker Smith attests to the skill of the group, saying they only rehearsed for the concert the night before.
While the warm winter, according to volunteer Nicci Falcone, caused the festival's signature azaleas to reach "peak bloom" three weeks prior to the event, visitors were able to purchase a variety of flowers for use in their own gardens. All proceeds from the event went to benefit the school's Student Financial Assistance and Faculty Enrichment programs. Margie Leachman, a mother of Landon alumni, explains that these funds help to provide financial aid for students and contribute to "supplementing faculty housing."
The festival concluded on Sunday, May 6, when more than 250 runners competed in a memorial 5k run in honor of Mark Ferris, class of 1994, who lost his battle with juvenile diabetes in 1999. Money raised from this race is donated to the Joslin Diabetes Center and the Mark Ferris '94 Scholarship Fund.