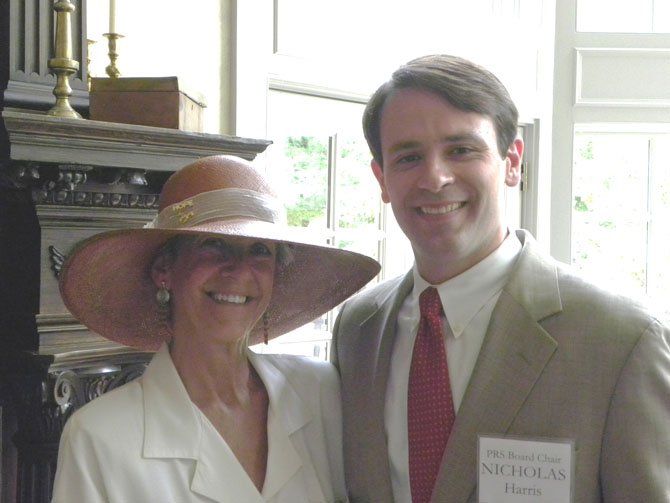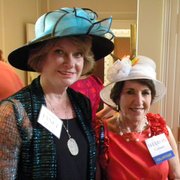 While I'll Have Another won the Run for the Roses, PRS, Inc., was the ultimate winner at the 17th Annual PRS Kentucky Derby Benefit on Saturday, May 5. About 175 guests enjoyed the party at an exquisite private home in McLean. More than $60,000 was raised at the event to support the services and programs of PRS, a community-based 501(c)(3) non-profit that serves adults in Northern Virginia with serious mental illness, emotional and/or behavioral disorders.
The 17th Annual PRS Kentucky Derby Benefit featured southern-inspired fare, including hors d'oeuvres, a Shrimp & Oyster Bar provided by McCormick & Schmick's, and traditional mint juleps. The evening also included live music, exciting live and silent auctions, raffle drawings, a wagering table, and the viewing of the 138th Kentucky Derby. A recent addition to the benefit was the Best Hat Contest, with four prizes given, including Best Overall to Carolina Larque-Vazquez.
During a live appeal, attendees donated more than $16,700 to the HOPE Fund. Established in 2010, PRS' HOPE Fund provides PRS services to people living with mental illnesses, substance use disorders, mild intellectual disabilities, pervasive developmental disorders (such as Autism Spectrum Disorders), or any combination of these, who do not qualify for public support and can't manage private payment. Services provided help clients
learn independent-living skills essential to maintaining their housing, avoiding psychiatric hospitalization, developing employment skills and improving self-sufficiency.
At Saturday's Benefit, a PRS client spoke about how the services he received through HOPE Fund contributions helped him transform his life.
Established in 1963, PRS, Inc., exists so that individuals with mental
illness, emotional and/or behavioral disorders achieve personal wellness, recovery and community integration. All services are highly individualized to meet the specific needs, abilities and goals of each client and include intensive skills training, supported employment services, community housing, and recovery-oriented classes in PRS' innovative Recovery Academy. For more information, visit www.prsinc.org or call 703-536-9000.