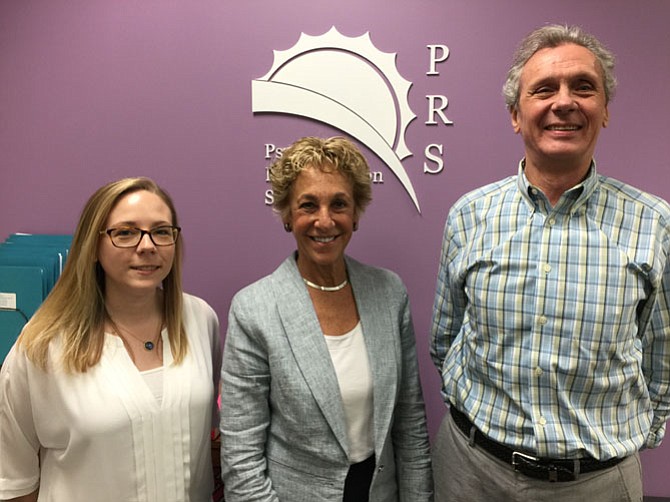 More about PRS
PRS is a McLean-based nonprofit helping those living with serious mental health issues and anyone who faces life crises achieve independence and self-sufficiency. PRS operates in Northern Virginia and D.C. It provides clients with skill training and support to help them recover and rebuild their lives through programs such as: Recovery Academy Day Programs, Community Support Services, Employment Services and Community Housing. See http://www.prsinc....">www.prsinc.org.
PRS operates CrisisLink — a 24/7 phone and text line for crisis and suicide prevention. Call 703-527-4077, 1-800-273-TALK, or 1-800-SUICIDE. Or text "Connect" to 85511.
More about CSB
The Fairfax‐Falls Church Community Services Board (CSB) provides and coordinates a community-wide system of support and services for individuals and families in Fairfax County and the cities of Fairfax and Falls Church who are affected by mental illness, substance use disorders, serious emotional disturbance, developmental delay, and intellectual disability. CSB is one of 40 such entities in the Commonwealth of Virginia and operates as an agency of the Fairfax County government. http://www.fairfa...">www.fairfaxcounty...
Need Help?
If you or someone you care about is experiencing a psychiatric emergency, call CSB Emergency Services, available 24/7, 365 days a year, at 703-573-5679. If the emergency is life-threatening, call 911.
Caryline Kelly, 27, will earn her graduate degree in mental health counseling this summer. Kelly is a recovery support specialist with Psychiatric Rehabilitation Services, headquartered in McLean.
"When you truly believe that you don't matter and you truly believe for so long that your family and friends would be better without you, it's hard to describe that pain. It's not something I would want anybody to feel," said Kelly.
"It took me awhile to really buy into therapy, I'm not going to lie, I think i was like, 'I'm okay, nothing is wrong with me, I'm fine.' But I wasn't."
"I did a lot of work to get where I am now," she said. "I put a lot of effort into it, so I'm proud of myself for it and it's just a great feeling to be able to share that with people and hopefully inspire, maybe, just one person to also do that."
She wants other teens and young adults to know there is hope.
"I think it's really important if you're going through something to talk to somebody. A trained professional, a friend, somebody, because there is help out there," she said.
"I'd want them to know that even though you may think, 'No one understands what I'm going through,' that 'Nobody else has been through this,' or 'Nobody wants to hear what I'm going through,' that there are people who care," she said. "In this area especially there is a wide variety of helpful services that you can utilize."
PRS LAUNCHED its CrisisText Connect in June 2014 in an effort to reach individuals in crisis or who require suicide intervention who would not otherwise call a crisis hotline.
Text "Connect" to 85511 or call the CrisisLInk hotline at 703-527-4077, 1-800-273-TALK, or 1-800-SUICIDE.
Last year, staff and volunteers handled nearly 40,000 crisis calls, 5,600 text conversations, and more than 250,000 text messages in its first year.
The crisis text program was created in response to the way younger people communicate. Most of texts come right after the school day ends.
"It's kind of important for us to figure out how to reach these young people," said Tom Schupin, director of special projects. "They may be reticent to pick up a phone call, hotline, but they may be out in a park with their cell phone, feeling depressed or feeling suicidal and they can text us wherever they are. It improves their access to the services they need, that's the key, we want to be able to reach the people who need our services."
NEARLY ONE IN FIVE adults, according to the National Institute of Mental Health, is affected by mental illness.
According to the National Alliance on Mental Illness, 20 percent of youth between the ages of 13 and 18 have or will have a serious mental illness; 50 percent of all lifetime cases of mental illness begin by age 14; and 75 percent begin by age 24.
PRS partnered with Fairfax-Falls Church Community Services Board to develop the Turning Point program, www.turningpointscsc.org, a coordinated specialty care program that serves adolescents and young adults who are experiencing first psychotic episodes.
"Serious mental illness often makes an appearance during the teen years," said Wendy Gradison, CEO and president of PRS. "If we can help them early—through a coordinated approach—these young people have a much better chance of recovering their lives."
"They've been falling through the cracks. They don't necessarily fit into traditional mental health services yet they are having emerging illnesses and it's very disruptive to their lives and their families lives," said Schuplin, of Alexandria. "Many are off to college when they first become ill. College doesn't seem to know how to deal with it, and sends them back home. They go to see a psychiatrist and things don't necessarily get better."
Data shows that working with families helps reduce relapse rates, improve recovery outcomes and increase overall family well-being, according to PRS.
"That's what these programs are all about, to try to lessen that duration of untreated psychosis, put in an effective treatment regimen in place so that we're not seeing the level of impairment that often occurs with psychotic disorders," said Schuplin.
The program is designed to last for two years of intensive services and fade out as individuals other community supports in the community with relapse prevention programs in place.
"We're already seeing some really remarkable outcomes of people going to work, going back to school and beginning to stabilize and their families beginning to understand what is going on with them so they can be the supports," said Schuplin.
To learn more about Turning Point, call 703-559- 3000 or visit www.turningpointcsc.org.
UNTREATED PSYCHOSIS has been intensively researched, said Schuplin.
"In the United States they are looking at what's called the duration of untreated psychosis," he said.
"As an individual has repeated experiences of psychosis, their functioning begins to fall off. They become less able to return to the level they were at, they are less able to return to work, or back to school and the impairment begins to take hold and that's a really real concern," he said.
Schuplin is the director of PRS Recovery Academy, which provides a curriculum-based day program that promotes meaningful community alternatives such as work, volunteering and school.
"It's really really exciting work and it's' going to expand," he said.
PRS has additional programs including community housing, community support services, and employment services.
"There is nothing more impactful than seeing the changes when someone who is living with mental illness who really thought they could never do anything more than make it through the day gets a job," said Gradison, of Vienna. "You watch them, you watch the spring in their step, the pride they experience, the valued role they now have in their community," she said. "To me there is nothing more meaningful or rewarding to me as a practitioner to see the dramatic changes, the life transforming changes that happen to our clients as a result from the work that we do."
See www.prsinc.org