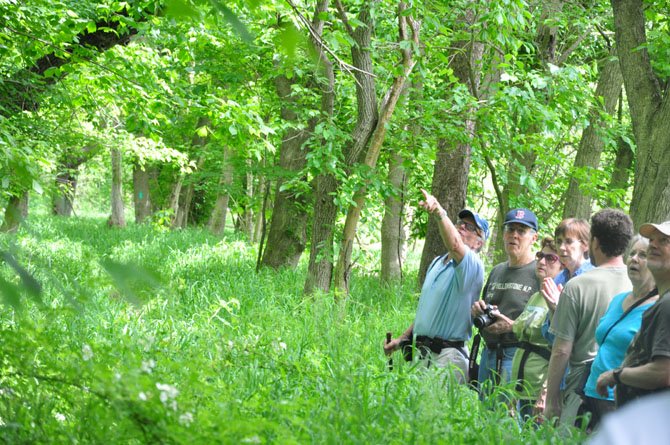 Great Falls — As part of a running group, Bob Vickers was familiar with the land along the Potomac River owned by the Potomac Conservatory. So when he heard about a contest looking for the biggest tree in Great Falls, he knew exactly where to look.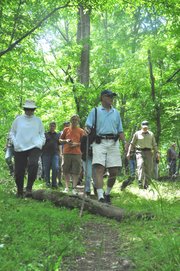 "From running in the area, I knew where to look, and I knew what I thought was a giant box elder tree," he said. "So I brought down a state forester, and while he told me it was actually an elm, it was one of the biggest trees around."
After that, Vickers began checking out trees, finding many "state champions," the biggest of their species in Virginia. On Saturday, May 12, he took a few dozen local residents on the third annual Big Tree Hike, where he showed off a few champions and other large trees.
Vickers, a resident of Great Falls since 1976, has found many state champions over the past few years.
"In 2006, there were five state champs in the county, now we've got about a dozen," he said.
Vickers said the reason Great Falls has so many champions is because people have taken the time to find them and get them verified online, through a database maintained by Virginia Tech. But he also said it's not a perfect process.
"I found a scarlet oak that I thought was the biggest, so I brought my wife out to take a look," he said. "When we were there, she pointed out another one and said 'that one looks a little bigger,' and sure enough it was, and it was the state champion for a while."
Hikers met at Camp Fraser and walked down to the flood plain of the Potomac. Along the way they discovered many species of trees with a variety of uses.
White pines have one of the strongest strength to weight ratios, and were a prized commodity for British settlers to Virginia, because of their usefulness in ship's masts.
"I had no idea about the history of some of these trees, that they could be so useful for ships and other purposes," said Tom Simpson of Great Falls. "They told us that it was because of the white pine's abundance here, that Britain was able to dominate the seas for so long because they could build better ships."
While many of the trees on the tour were awe-inspiring in their sheer diameter and height, Vickers and others had just as many stories about trees that had been felled.
"I was really struck when they told us about the largest beech tree on the East Coast that was right here in Great Falls, but was cut down in 1968 to make a drainage culvert," said Amy Lincoln. "It's sort of sad to think about those majestic things being cut down for a drain for because someone wanted to be able to see the river while they ate breakfast."
More information about big trees in the state can be found at www.web2.cnre.vt.edu/4h/bigtree.