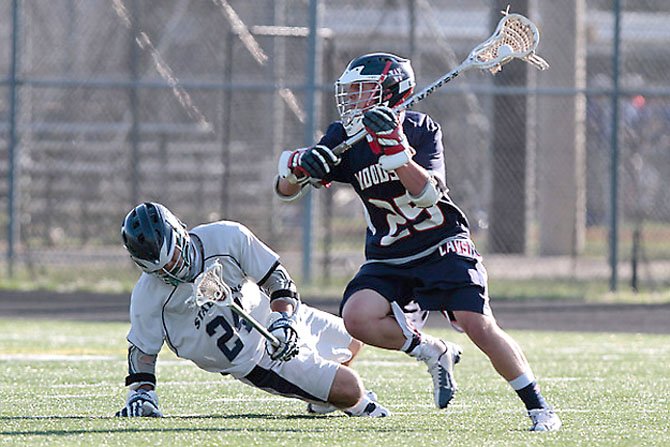 Springfield — The Woodson boys' lacrosse team hung a plaque in its locker room displaying the score "17-3" as a reminder of the lopsided loss the Cavaliers suffered against Annandale in the 2011 Patriot District tournament final.
If that wasn't enough motivation for Woodson during the 2012 season, the Cavaliers lost to South County, 8-7, on April 13, the program's first loss to the Stallions in the seven-year history of the South County program.
One month later, Woodson found itself matched up against South County in the Patriot District tournament final with a chance to avenge a pair of losses. When the final seconds ticked away, the Cavaliers had redeemed themselves in blowout fashion.
No. 2 seed Woodson thumped No. 1 South County, 17-5, on May 11 at Lee High School in Springfield. Each team scored a goal early, but the Cavaliers blew the game open with seven consecutive goals during a 13-plus minute span stretching between the first and second quarters. Woodson led 9-2 at halftime and cruised to victory.
"Last year, we had a pretty devastating loss to Annandale, 17-3. … As a team, it definitely [motivated us]. We were all devastated. This year, we bounced back."

— Woodson senior goalkeeper Connor Wade
"That was a very embarrassing moment because Woodson hadn't ever lost to South County," Woodson head coach Jon FitzGerald said of the regular season defeat. "So we had a lot of time to let that fester. … We had an opportunity to win our district championship and also get revenge on South County."
Along with avenging the loss to the Stallions, the Cavaliers returned to their place atop the Patriot District after a one year hiatus. Woodson defeated Annandale, 15-8, during the regular season on April 25 and on May 7 in the first round of the district tournament, winning 17-4.
"Last year we had a pretty devastating loss to Annandale, 17-3," Woodson goalkeeper Connor Wade said. "… As a team, it definitely [motivated us]. We were all devastated. This year, we bounced back."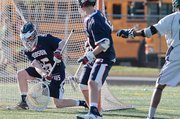 FitzGerald praised the play of his first-team all-district goalkeeper, including Wade's ability to clear the ball.
"It easily could have been a lot closer in the first half," FitzGerald said. "They had some point-blank shots that he saved."
Offensively, Woodson shared the ball and had eight players score at least one goal.
Senior midfielder Hunter Guttendorf, sophomore attackman Ryan Wade, senior midfielder Marcus Berry and senior attackman Joey Coscia each had three goals for the Cavaliers. Senior midfielder Pat Valentino had two goals and sophomore midfielder Jimmy McLaughlin, senior midfielder Scott Williams and junior defenseman Erik Weed each scored one.
"When we work together as a team, we win games," Williams said. "Our coach has really installed that into our minds."
Woodson was well represented among the all-district teams. Senior attackmen Mack Cary and Ryan Wade were named first-team all-district, and Coscia and Guttendorf were on the second team.
Williams was a first-team midfielder, and Valentino and Berry were second-team midfielders. Weed was a first-team defenseman, and junior Sam Schnoebelen and freshman Will Cogan made the second team.