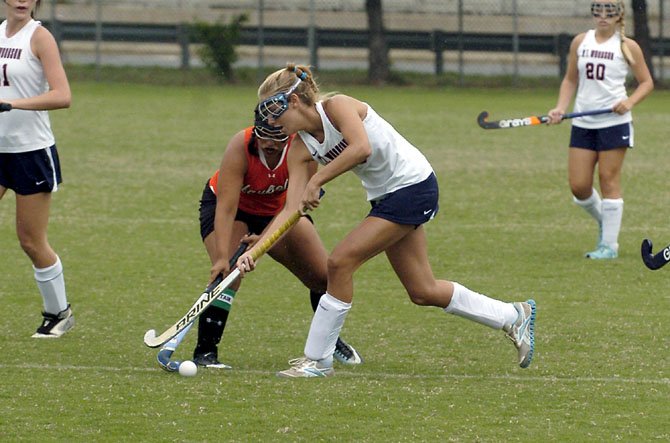 First-year Woodson head field hockey coach Meg Jarrell isn't much older than her players, but that hasn't stood in the way of the 22-year-old trying to light a competitive fire under the Cavaliers.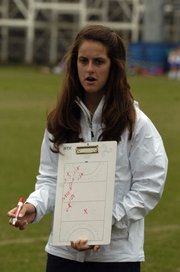 Jarrell took over a program that qualified for the state tournament as recently as 2009, but failed to advance to even the regional tournament in 2011. Woodson is off to a 3-1-2 start in 2012, including a 2-0-2 effort at the "Under the Lights" tournament Aug. 24-25 at Lee High School. Jarrell, a 2008 Lake Braddock graduate who played field hockey at Davidson University, said the Cavaliers have responded to her max-effort teachings.
"Right from the get-go, our first scrimmage, I really made the impression on them a loss is not OK when you don't play your best."

— Woodson head field hockey coach Meg Jarrell
"The girls, although the record might have been down [last season], they're a very disciplined squad and they're very talented, but I think they kind of [developed] this attitude, 'We win some, we lose some,'" Jarrell said. "Right from the get-go, our first scrimmage, I really made the impression on them a loss is not OK when you don't play your best. They've really taken that to heart and wins mean more to them and the losses hurt—and I want the losses to hurt because I want them to learn from them, not just go home and say, 'All right, we'll go out the next day and do whatever.'
"A team with this much talent not making it to the regional tournament is not acceptable and they know that, and they hold pretty high expectations."
Jarrell said having a small age gap between coach and players helps her relate to the Cavaliers, and athletes still show her the respect of an elder.
After defeating Chantilly, 2-0, in their season opener on Aug. 22, the Cavaliers faced the Chargers again on the first day of "Under the Lights" and finished in a 1-1 tie on Aug. 24. Junior midfielder Alex Lightfoot scored Woodson's goal.
"I think we're definitely improving with every game we play," sophomore midfielder Isabel Obregon said after the tie against Chantilly. "We started off slow at our first scrimmage, but each game we've played I think we've gotten better and we're becoming more of a team."
In Woodson's second game of the day, the Cavaliers defeated T.C. Williams, 4-1, with goals from Jasmine Kim, Kelly Stegner, Obregon and Maddie Browning.
Woodson started strong on the second day, beating Hayfield, 6-1, on Aug. 25. Stegner, a junior midfielder, scored a career-high three goals against the Hawks.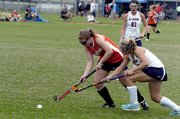 "Once she learns to keep the ball moving as fast as her legs, she's going to be incredible," Jarrell said. "I've only had her for two or three weeks if you go all the way back to the beginning of tryouts, and she's made incredible leaps and bounds. She's so fast and so athletic. She's been told she's one of the best athletes in the school and it shows."
Molly Wecker scored a pair of goals against Hayfield and Coco Armstrong added one.
Woodson closed the tournament with a 2-2 tie against Thomas Jefferson. Stegner and Kim scored goals for the Cavaliers.
On Aug. 27, Woodson lost to three-time defending Liberty District champion Fairfax, 1-0.
Defensively, Jarrell said junior right back Claudia Muratore and senior goalkeeper Jessica Peckins should be standouts for Woodson. At midfield, Jarrell described Lightfoot as "just a total brick wall." Senior forward Meghan Smiga, one of the team's top players, is out with an injury.
Woodson will travel to face Westfield at 7:30 p.m. on Sept. 7. The Cavaliers' next home game is Sept. 12 against Oakton. Woodson will open Patriot District play on Sept. 14 against South County.
"I think we'll do really well," Stegner said. "Our coach is really solid, she has a lot of plays for us to do and we have really productive practices. I think we're going to go really far. I'm excited."