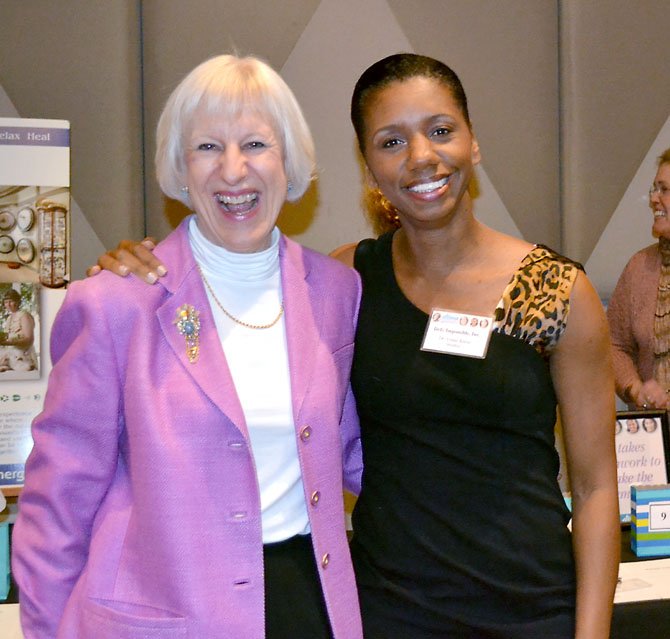 Potomac — "What do you see when you look at me?" asked a barefoot, seemingly intoxicated woman wearing an overcoat and sporting a wool cap as she addressed a crowd of about 200 Potomac-area entrepreneurs.
The mostly female audience appeared stunned by her rambling line of questioning. Gradually, the woman's interrogation became more coherent, her appearance more polished. She peeled off her outerwear, revealing a trim physique and a stylish sheath. The speaker was Dr. Venus Opal Reese, a mentor and college professor. The venue was North Potomac's Lakewood Country Club.
Reese's lecture was part of a luncheon hosted by the Montgomery County chapter of eWomenNetwork, an organization dedicated to supporting female businesswomen. Reece's speech included themes of self-empowerment and self-esteem. Her attention-grabbing skit was meant to demonstrate how women can overcome obstacles and transform their lives.
"It was one of the most dynamic and artistically creative talks I've ever witnessed," said audience member Cari Shane.
Reese's personal story inspired attendees. "Her 14-year journey from the streets of Baltimore… to two master's degrees and a Stanford University Ph.D. inspires [others] to defy the impossible," said luncheon organizer Carol Plummer.
Reese, who was once a homeless teenager living in a drug-infested neighborhood, addressed the crowd with a message of hope: "As women, we don't always live our worth, we settle," she said. "We take what we can get. We put ourselves last. We need to put ourselves first."
"I think that she has a great story," said Plummer. "She has a powerful message for women to hear and for women to acknowledge."
Reese encouraged women to develop a healthy sense of self worth, and her words resonated with those in attendance.
"It is important to first break the glass ceiling inside your head before you can break the 'outer glass' ceiling," said audience member Kay Loughrey.