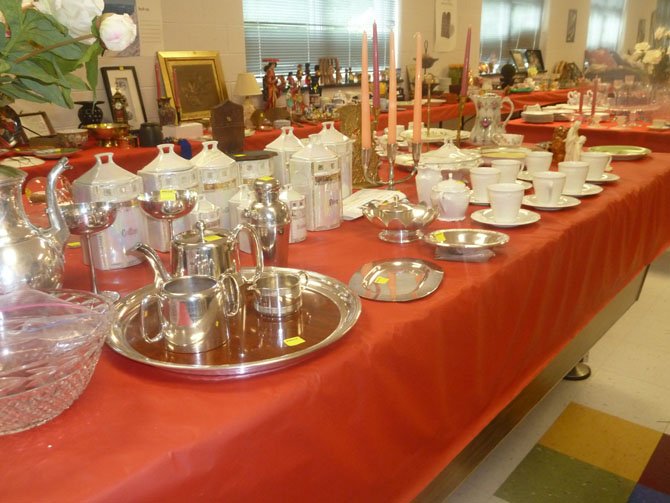 To Go
The Strawberry Festival will be held at the Potomac United Methodist Church at the corner of Falls Road and South Glen from 10 a.m. – 4 p.m. on May 19. The festival is free — and every person who enters receives a free ticket for the raffle.
Donations of clothing, home treasures, sporting goods, books, toys or bikes are being accepted now at the Parish Center at 9908 South Glen Road in Potomac.
For more information, go to www.potomac-umc.org or call 301-299-9383
Potomac — For 22 years, huge, ripe delicious strawberries served over Judith Dubowy's homemade shortcake with her hand-whipped cream have been a highlight of the Potomac United Methodist Church Strawberry Festival. A long line always forms to devour Becky Queen's hand-dipped chocolate-covered strawberries. But there is more to the festival than just the strawberry desserts. The community awaits this spring festival every year to see what treasures they can find for each member of their families. It's a neighborhood event which attracts more than 1,200 people from Potomac's environs and beyond.
"We have wonderful vendors this year," said Laura O'Keefe, co-chair for publicity. "We will offer distinctive fashions, fine linens, homemade Peruvian chocolates, custom belts, handcrafted purses and much more. Another favorite is the spectacular silent auction which will include restaurant certificates, sports tickets, gorgeous theme baskets and even the use of a vacation home."
Festival co-chair Vickie Cooper said, "Beyond offering all of these items for sale, we offer a large variety of kid's games and activates, in order to make the Strawberry Festival a true family event. There will be a number of games for the children, including the well-known Berry Jar and Cake Walk games. There will be a moon bounce and face painting, as well as a number of craft activities, including bead making and cupcake decorating.
"Perhaps the most exciting things about kid's activities this year is the fact that we will be hosting a free John Henry 'The Guitar Playing Man' concert for the children at 10:30 a.m. John Henry is a well-known children's performer in this area. We are hoping that this event will make the festival really special for kids and draw more families into the festival. Folks can find more information about John Henry here: http://www.johnhenryengland.com/"
The festival will also feature a Chic Boutique with nearly-new clothing for children and adults, home and estate treasures, children's toys and books for every member of the family. The Bake Sale offers home-baked cakes, pies, bread and cookies to eat on-the-spot or to take home. A special Cupcake Corner with home-made chocolate, cream-filled, espresso and strawberry-themed cupcakes will entice everyone and a lunch of hot dogs, hamburgers and pulled pork sandwiches will also be available.
"This is the biggest church-run event in the area," said O'Keefe. "Last year, we donated over $20,000 to local charities — quite amazing for a one-day event."
Cooper added, "Pulling the festival together and executing it is something that engages and brings together everyone in our church. The event is driven by the women's group of the church, but the men's group plays a critical role as well by offering a variety of lunch items for sale and performing support functions like parking management. Many of the youth of the church are also involved."
Co-chair Candice Sigenthaler said, "With new leadership and many new chairs and co-chairs, we have excitedly expanded the Strawberry Festival by bringing back some old favorites like our Strawberry mascot which you will see at the curb or walking throughout the festival in bright red. You might even see a Strawberry Shortcake or two. We are also being 'green' by providing PUMC Strawberry Festival Reusable Bags for purchase."
The Strawberry Festival generates funds for 14 local charities, including the Excel Institute, Child Savers, Stepping Stones Shelter, Montgomery Hospice, Wesley Theological Seminary Education, Montgomery Avenue Women's Shelter, the Children's Inn at NIH, Manna House and others.