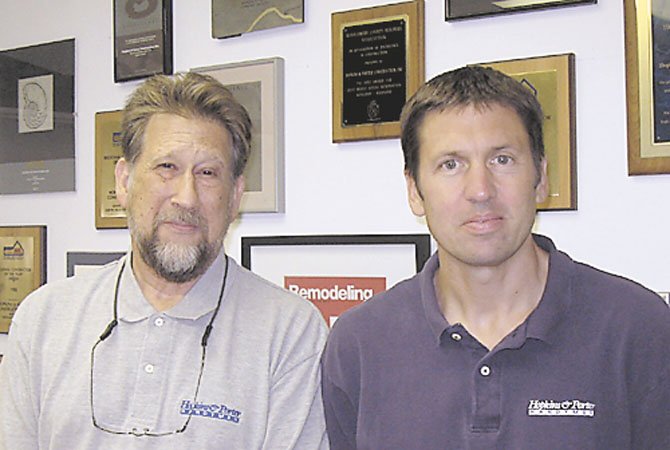 Potomac — Although it may be an unappealing subject to address, we Marylanders must acknowledge our mid-Atlantic location to be a perfect setting for fungus, mold, mildew, and rot, not to mention insect infestation. This is one aspect of the natural world we live in.
On the other hand, we live in a increasingly synthetic world of our own making and becoming more synthetic all the time. As a builder/remodeler I don't mind this development. I may prefer eating organic food, but when it comes to the outside of my house, I want something that will not rot. Our construction company's revenues come in part from repairing the rotting exteriors of homes. Still, I am not happy when I have to replace the facades of our customers' homes before their time.
Builders and remodelers make their choice of materials based on various factors using the best available knowledge at the time. If we ever got it wrong, it was during the transition period from traditional wood to synthetics. An architect friend of mine once remarked that he did not care if the building fell apart later on as long as he got some great photos of it at first. I did not quite believe that he was being serious, and I know no builder thinks this way. No home builder or remodeler wants to receive that phone call which calls into question his integrity, his professionalism, or his good name, "My siding (or my windows or my roof) is rotting." It is every homeowner's nightmare to walk outside in the springtime to view his home, his pride and joy, perhaps his largest single investment, and find decay. Then again, in this part of the country it happens to most of us.
Let's be honest, nothing is forever, but we would all like the skin of our homes to last, to resist fungus, insects, rain, snow, hail, and the sun, as well as the occasional baseball. We want this certainty for the same reason we protect our own skin: it protects the innards. In the case of a house, it guards the framing, the insulation, and all of our possessions. Fifty years I think is a good and reasonable amount of time to expect our exteriors to last, which poses the question of which components are better than others and why.
As the story of the little pigs told us, a brick house will not blow down no matter how much you huff and puff. Brick and stone form one of the toughest exteriors in housing today. Unless your home is clad with recycled brick (and much of that kind of brick on the outside of a house was never meant to see the light of day), then you have little to fear. Mortar in between the brick does degrade with the weather and acid rain, but for the most part it will last at least 50 years before it needs to be "re-pointed." Typically a brick house has wood trim and windows and perhaps roofing, but this is changing. Houses built and trimmed of old growth wood, that wonderful and almost totally depleted resource of slow grown, tight grained, dense, high mineral content lumber from our virgin forests, seems to last hundreds of years, while the wood grown in our replacement forests sometimes wimps out in less than five years.
Because of this, builders are cladding their homes with new man-made materials, and repair specialists are replacing rotted trim, windows and siding with a variety of synthetic replacements. Many of these have yet been given the test of time, and some are already being replaced. In the '60s, '70s and '80s, many homes were sided with Masonite* and other similar wood fiber-based clapboard. We have a long tradition of clapboard in North America, and our preference for horizontal shadow lines is part of our national aesthetic.
MASONITE SIDING failed before its time, often first on the southern and western exposures. Aluminum siding was an early replacement, but asbestos-cement siding beat it by many years. You may have seen those homes all around the county still clad in it. Repairs are difficult because the repair stock comes from the recycled shingles of other homes. The idea was a good one, even if asbestos was a mistake. Today many new homes are being sided with a similar product: fiber cement siding, available as clapboard or shingles.
Instead of the deadly asbestos (deadly for the factory worker who manufactured it) to give the cement extra strength, the Australians who invented it have substituted wood fiber. Today fiber cement siding is filling the siding gap on hundreds of thousands of homes each year. It paints and hold paint very well, and it even comes pre-painted which saves an enormous amount of labor. We don't really know how long it will last, but early indications suggest that it is a much better bet than Masonite which it replaces perfectly without any change in looks.
How do aluminum and vinyl siding measure up? Although aluminum has almost disappeared, vinyl is still probably the most economical siding material to install. Like its predecessor aluminum, it does not wholly serve the "I never want to paint again" desire of many home owners. It does go dull, and folks are painting their vinyl and aluminum to make it look new again. Both aluminum and vinyl never completely seal the house but depend a great deal upon the house wrap underneath. Tar paper made of petroleum tar and animal hair felt is now being replaced by synthetic breathable house wraps like Tyvek. Whether your vinyl siding will last its 50 years depends upon the original quality of it. Some will, and much of it will become brittle and chalky and may need to be replaced by cement siding or something new we have not yet heard of.
Americans love their homes, and they want them to look good, pretty, beautiful, or even stunning. Aesthetics do drive the choices of exterior trim. I do not have data about the reasons for siding replacement, but the goal of improving the looks of the home has got to be one of the big factors affecting replacement. Another is the low maintenance "movement." Styles change, and geographical areas have different looks and regional preferences. Interestingly, in Cape Cod and especially the most expensive real estate on the coast and on islands like Nantucket, wood shingles are still the preferred siding. Eastern white cedar shingles and western red shingles are still very available although pricy. These materials last and last beyond 50 years, although they may need painting or staining and occasional repairs.
SURROUNDING THE SIDING is the rest of the exterior trim, at the corners and perimeters and the edge of the roofing, soffit, and fascias. Where redwood (no longer as available or economically viable), pine, spruce and fir (no longer durable) held sway, we now have PVC, foam with a durable skin, specially manufactured, and treated wood lumber is available. Call me in 50 years, and ask me how long these will last, but they do trump pine-spruce-fir.
After brick, stucco is probably the most durable exterior siding. Traditional stucco was 1/2" to 1" of cement troweled by hand into a galvanized wire substrate over plywood or solid wood sheathing. It was often painted, so it needed to be repainted now and then. Today most stucco is a synthetic product call EIFS. It is a mixture of cement and plastic resins and is troweled over a plastic mesh and a substrate of expanded polystyrene foam. This material forms one of the most effective skins over a home, because the foam under the stucco surrounds the whole exterior of the home rather than just between the wood studs. By using different thicknesses of foam the exterior of the home can be styled to look like architectural trim and other 3-dimentional features. Another appealing feature is that the stucco is available in colors so that painting is put off for many years.
Like any new product it had its growing pains and problems. One of these that occurred most commonly in the southern U.S. was internal rot caused by the build up of moisture behind the foam in the house framing. These problems have been eliminated by an internal moisture weeping/wicking layer. Another unusual problem occurs when woodpeckers try out the surface to find out if there might be critters making a home inside. Sometimes these wood pecker test holes then let carpenter ants in who are always looking for moist warm homes for their colonies. Then the woodpeckers come back and really do find a meal which requires an even larger hole. For the most part synthetic stucco has been a success, as it resists the sun and keeps the home either warmer or cooler depending upon the season. Its longevity is an open question, but it can be repaired. Like any siding product, synthetic stucco creates an aesthetic statement. A stucco house is either more or less appealing than a shingle, clapboard, or brick home depending upon your visual prejudices and the style of home you are looking for.
What about the relative costs, you might ask? For new homes and complete renovations, the costs increase from vinyl to fiber cement, to wood siding, to stucco, to brick and stone. To some extent you get what you pay for as long as you are an educated homeowner. With almost any home these days that has wood on the exterior, rot may be lurking to ruin your day. The choice is yours to repair or replace.
There are many knowledgeable and honest contractors who can help you decide.
Your questions and comments are welcome: mike@hopkinsandporter.com
It should be noted that while Masonite did not work so well on the outsides of homes the basic material is still used to manufacture inexpensive hollow core doors that don't rot as long as they are inside the house.