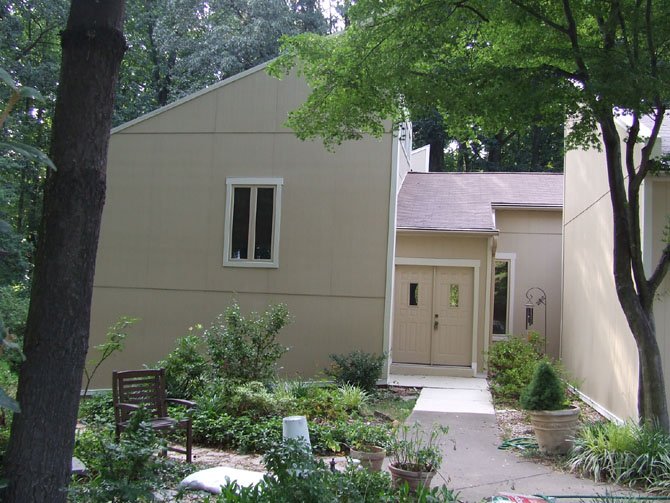 "I have seen woodpecker damage in siding that was pretty large. Nothing compared to this damage, [and it] was still growing."
—Steve Magill
When Diane Smith moved into her Reston home in 2004, the house, which was built with cedar siding, was in good repair. The siding, she says, "appeared intact and heavily stained."
However, two years later, her home was under attack—by birds. "The floodgates broke loose—woodpeckers began to savage the home," she said. "The rotten and dead trees in the woodlot that surrounds the house were colonized and the actual home was the social center of woodpecker life."
Smith restained the siding and painted the trim, but woodpeckers continued to feast on her home.
"A lot of woodpeckers enjoy going after bugs that are in the wood siding," said Danny Harper, owner of Custom Concepts Construction Concepts, Inc. in Maryland. "What happens is that the wood starts to rot, insects get in there and woodpeckers go in looking for bugs. Anytime you have older homes with water damage that attracts insects. The woodpeckers follow and come around eating people's homes."
Smith said she used several weapons in her woodpecker war, including "a solar-powered device that sounds like a woodpecker predator." She tried filling the holes with steel wool and even used exterior insect repellant to kill the wood-boring bugs. "Nothing worked: The house continued to be Swiss-cheesed by the birds."
THE FINAL STRAW came, Smith said, when the woodpeckers drilled a hole large enough to build a nest, then laid eggs and hatched a family inside the framework of her home. She was actually ready to sell her house when she noticed that her next-door neighbor, whose home appeared similar to hers, didn't have any woodpecker damage. The difference? That house was sided with HardiePlank siding.
Although Smith says she found many non-wood siding options, like vinyl or metal, they were unattractive and overpriced. Feeling desperate, she brought in a contractor.
"I was amazed as to the extent of damage the different species of woodpeckers created," said Steve Magill at Fred, a home repair division of Case Design/Remodeling, Inc. "I have seen woodpecker damage in siding that was pretty large. Nothing compared to this damage, [and it] was still growing."
Magill and his team installed HardiePlank on Smith's home. "We covered the entire house in panels and trim. The Hardie panel is a cement-based product that has a very long life span, maybe 100 years," he said. "It comes with a factory paint applied in controlled environments. The warranty on the paint is 15 years."
For those who don't want synthetic siding, Harper says up-keep is paramount. "It comes down to a maintenance thing. You have to be diligent and keep up with the maintenance cycle of painting and caulking to create a water barrier so that water can't penetrate. In most cases, people let it go, and then it creates a problem and then it is more expensive in the long run."
Smith said that for her, cedar was impractical and she's happy with her new, bird-free home. "It's a solid, visually pleasing exterior housing material. The decision was quite easy."