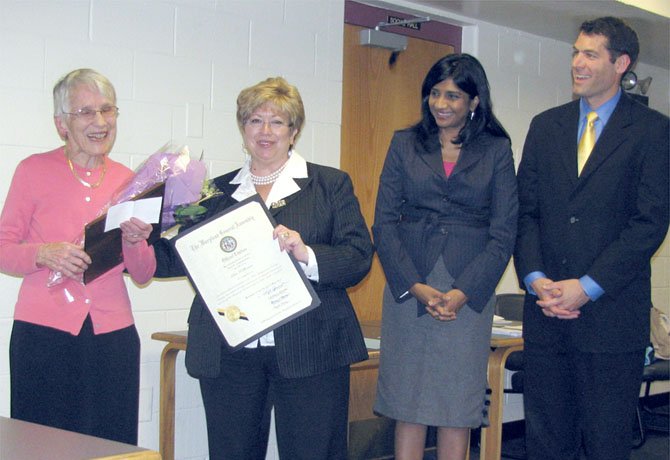 Potomac — A long-time Potomac resident, community activist and volunteer was honored for her altruistic efforts recently. The West Montgomery County Citizens' Association praised Lois Williams during a ceremony at the Potomac Community Center earlier this month.
WMCCA president Susanne Lee said the group presented Williams with a plaque in recognition of her "extraordinary contributions to WMCCA and the Potomac community as WMCCA newsletter editor and board member."
Williams, who has lived in Potomac for 46 years, moved to the area when her children were young and began donating her time to such causes as the Girls Scouts of America. She later joined the WMCCA and has been a member for 40 years. "Our citizens' association is an opportunity for people who live in Potomac to have a voice in the halls of government," she said.
Through her WMCCA positions, Williams lobbied for roadside stream identification signs to promote watershed awareness. "For many years she led a WMCCA project honoring students who 'go outdoors for science' to do an environmental science project using data from a woods or stream site," said Lee. "She's worked on the new membership brochure, part of her long commitment to boosting WMCCA membership."
WMCCA members lauded Williams for her wisdom and institutional knowledge. "She is like the mortar that holds the bricks together," said Barbara Hoover, a member of the WMCCA board of directors. "She has a lot of knowledge of this history of the Potomac area."
State Sen. Rob Garagiola and District 15 Delegates Kathleen Dumais and Aruna Miller also attended the ceremony and thanked Williams for her efforts.