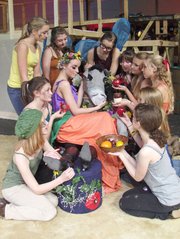 In November 2011, Robinson Secondary had the honor of performing the world premiere of an original play, Ken Ludwig's "Midsummer/Jersey." And now, that play has received 10 Cappie nominations for excellence in high-school theater.
It's a mash-up of Shakespeare's "Midsummer Night's Dream" and MTV's "Jersey Shore." Using modern language, it follows Shakespeare's story, but sets it in contemporary New Jersey.
Four "Guido" and "Guidette" teens in love are on a beach near where hairdressers are rehearsing the play, "Romeo and Juliet." Also there are two groups of feuding and magical fairies. When fairy Puck meddles in the lives of both the lovers and the actors, mad mix-ups and hilarity ensue.
A hit with both audiences and the Cappie critics, the show garnered nominations for: Best Play, Supporting Actor in a Play, Dan Barr; Comic Actor in a Play, Adam Bradley; Comic Actress in a Play, Carys Meyer; Featured Actor in a Play, Jamie Green; Ensemble in a Play, The Mechanicals (hairdressers); Creativity in Musicianship, Oberon's Crew; Makeup, Kayla Neal and Crew; Sets, Matt Lynch, Lindsey Rubin, Emily Rowson and Hannah Sikora; and Sound, Chris Mayhew and Christine Wagner.
"It doesn't mean we're going to win anything," said Director Chip Rome. "But it's very exciting to be recognized by our colleagues and by other students across the region as a school that does excellent work. There are a lot of talented kids out there, and we're delighted to be among those getting a pat on the back – but many deserve it."


THE NOMINATION he wanted most is for Best Play because it means his thespians will perform a scene at The Kennedy Center Gala, June 10, when the award winners are announced. "It's a great honor to be nominated as among the five best plays from such an impressive array of shows," he said.
Besides the acting nods, Rome's also pleased about the tech nominations. In acting, Robinson just competed against those schools performing plays, not musicals. But in tech categories, it vied against all the nearly 60 schools participating in both genres.
"Robinson has been known for its technical strengths, so it's particularly satisfying that we had a nice balance of acting and technical nominations," he said. "And almost all our nominated actors do tech work, as well."
In the acting arena, he said Barr stands out because of the contrast between his fairy king, Oberon, "who's pretty grounded, and his servant Puck, played by Adam Bradley. Adam's crazy physicality really made the part shine – from skateboarding to gymnastics. Both he and Dan put in the kind of effort required to create something new, based on something familiar."
Nominated for Creativity in Musicianship is Oberon's Crew of male fairies. "We added them into the script, and the students created music for all the magical moments and effects that Oberon and Puck throw at the various characters," said Rome. "The actors used a cello, violin, piano and a thunder sheet to create the sound of fairy magic."
"To me, the play is about love and that you're complete when you find your other half," he explained. "Titania's fairies needed male counterparts, and the last moments of the play have nearly everyone paired up."
Rome said Meyer had the role everyone wanted – the over-enthusiastic hairdresser who wants to act all the roles in the play within the play. And, added the director, "She's the one Puck transforms into the head of an ass – with whom Titania falls in love. This character is also from the Jersey Shore, so she has to do the dialect, enthusiastic hamming-it-up and singing badly on purpose inside a papier-mâché head. Carys is very talented and also a dream to work with."
He also called Jamie Green a wonderful actor who throws himself fully into each project. "He hammed it up appropriately for his role of Robert, the hairdresser," said Rome. "And he was the wall in the play within the play."
Nominated for Best Ensemble are the Hair and Gone hairdressers, who are also putting on a play. There's such variety in this cluster of six people, said Rome, that they were "tremendously fun to watch."
The sound nod was for "bringing power and echo to Oberon's voice when he got angry," said the director. "We also used a lot of the stage, so we hid wireless floor mikes in the different levels of the set. And we had to have lots of perfectly timed sound effects."


ROBINSON STARTED work on its sets concept, a year ago, designing them on Google's Sketchup software. Then, said Rome, "Emily Rowson went through 14 iterations of the boardwalk and where best to put the stairs, because they served so many purposes. Matt Lynch had to figure out how to build it, and an art teacher showed Lindsey Rubin how to use a blowtorch so the wood would look aged."
Rubin also painted the floor to look like sand at the beach and chose bubblegum pink for the hair-salon walls. Then Hannah Sikora worked on set decoration to create the atmosphere of both locations. "She included things under the boardwalk – like shrubs, trash and Christmas lights – that could turn magical," said Rome. "And she had signs advertising the businesses mentioned in the show. So this was a real team effort from design to construction to painting to decoration."
Makeup was also a challenge. "What do you do for fairies' makeup?" asked Rome. "For example, Titania's eyelashes were black feathers. And we wanted the male fairies to look rougher, so the makeup crew painted tattooed wings on their backs – which took two hours every night. They also sent the Jersey Shore couples to a tanning salon to get their special look."
Basically, said Rome, his goal with any production is to entertain the audience and show his students at their best. So he was thrilled to receive a nice note from playwright Ludwig's publisher about all the Cappie nominations Robinson received for "Midsummer/Jersey."
"It was great knowing that someone from the big leagues thought our high-school show was so significant," Rome said.