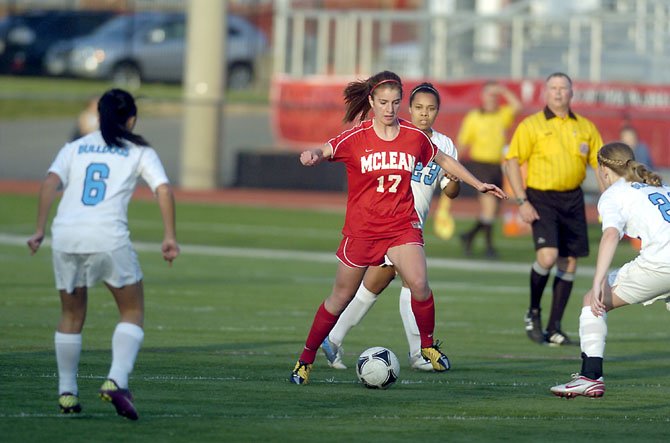 McLean — One would never realize to watch Brianna Nielsen play soccer that earlier this year she could barely even walk. The McLean High girls' soccer standout, on the field of play, looks as if she was born to excel in the sport, with her ability to maintain and control the ball in the midfield, her natural instincts and feel for the game which seem to always have her at the most opportune place to make a play, and her all out hustle and easily recognizable passion for the game.
"She's a competitor and just wants to win," said McLean head coach Rob Bouchard, of Nielsen, a fourth year varsity starter. "That kid just fights hard [to excel on the field] and does what is asked of her. She's played every minute of every game. She was barely able to walk a month before the season."
Before the season, Nielsen was diagnosed with an often crippling neurological disorder called erythromelalgia, a horrifically cruel disease that forces many people into sedentary lives full of agonizing pain. The extremities of an afflicted person, usually the hands and feet but sometimes the nose, feel as though they are literally on fire. The burning sensation is often accompanied by swelling and severe discoloration.
"In Brianna's case, it was her feet that were mostly affected, and she would spend nights of agony praying for the pain to stop," wrote McLean assistant coach Marc Cascio, in a letter to the Connection describing Nielsen's condition. "She actually told me that she contemplated cutting her feet off as anything would be better than what she felt."
NIELSEN, to find relief, would soak her feet in ice water for prolonged periods of time, explained Cascio. But that led to damaged nerves in her feet, resulting in Nielsen having to learn how to walk again through physical therapy.
"It definitely kept me from playing soccer for a while and from doing simple things like walking and running," said Nielsen.
Her problems with her feet began in December and Nielsen was forced out of school for a period of time.
"When Bri finally returned to school, she was on a potent mixture of pain medications that kept her in a haze," explained Cascio, an English teacher at McLean. "Lapsing into unconsciousness was a constant concern. She had passed out at home once. I myself carried her out of school into her mother's car because the stress of the school day, the pain, and the befuddlement caused by the meds were too much for her."
But through it all, Nielsen, a defender and a part of McLean's state AAA title-winning team a year ago, was adamant that she would be on the field for the 2012 spring season.
"Throughout the ordeal, Bri had been assuring everyone that she would play soccer this season," said Cascio. "Nobody believed her."
But Nielsen did get better. Her health improved, she got back into the classroom and with her classmates at McLean, and eventually was on the soccer field again with her teammates for the start of the season.
Nielsen has been a fixture for the Highlanders all season. In McLean's Liberty District tournament semifinals win over Langley on May 16, she scored both of her team's goals to lead the Highlanders past the Saxons, 2-1.
"She played for the entire game as she has for every game this season," said Cascio.
She also played a good game in McLean's district title victory over top-seeded Stone Bridge on May 18 at Madison High School.
Nielsen, throughout her high school playing career, has been a part of three Highlander district championship teams, a region runner-up squad, and a state title winning team. She is set to play the sport collegiately next school year at Virginia Commonwealth University (VCU) in Richmond.
"Bri is a source of inspiration for everyone and she is a personal hero to me," said Cascio.