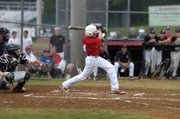 Members of the McLean baseball team waited patiently in the first-base dugout at Madison High School as a steady rain drenched the field. The Highlanders had put themselves in a position to win. Now, it was a matter of determining whether they would return to action to finish the job, or if Mother Nature would take care of business.
After a half-hour had passed, umpires determined there would be no more baseball played on this Wednesday evening. The McLean dugout erupted. Players leaped over the railing and sprinted into right field for a celebratory dog pile.
McLean defeated Madison 5-1 in a rain-shortened 6A North region semifinal contest in Vienna. With the victory, the Highlanders secured a berth in the state tournament and advanced to face Chantilly in the region championship game on Friday. It is believed to be McLean's first trip to a region final in program history.
The Highlanders led 5-1 after six complete innings. After McLean failed to score in the top of the seventh, Madison came to bat in the bottom half during a steady rainfall. The Warhawks had runners on first and second with one out and Michael Nielsen facing a 1-2 count when umpires stopped the game. The rain continued to fall during a nearly 30-minute delay. At 9:30 p.m., umpires called the game and the Highlanders were heading to the region final.
"To be honest, it felt like a million years," McLean sophomore shortstop Conor Grammes said about the half-hour rain delay. "I kept waiting for those umpires to come out and call the game or say we had to go back out there. Even if we did have to go back out there, we all had the mindset. We didn't let each other stop thinking about the game. We kept our heads right. It all played out the right way."
"To be honest, it felt like a million years," McLean sophomore shortstop Conor Grammes said about the half-hour rain delay. "I kept waiting for those umpires to come out and call the game or say we had to go back out there

--- McLean sophomore Conor Grammes
McLean head coach John Dowling said it was "unfortunate" the game ended the way it did, adding the Highlanders were ready to get back on the field.
"It was an odd situation," he said. "Looking at the field, we could sort of anticipate what was happening, but it's a crappy way to end a pretty well-played game by both sides."
While the game wasn't finished on the field, McLean put itself in position to win during the first six innings thanks in large part to the performance of pitcher Joey Sullivan. The Virginia Tech signee was roughed up in his previous start at Madison High School on May 9, allowing seven runs --- four earned --- and five hits in 1 1/3 innings. Wednesday night was a different story, as the senior right-hander tossed a complete game, allowing one earned run and three hits in six innings. He walked one, hit one batter and struck out four.
"I thought about it, but today I was loose," Sullivan said about his previous start at Madison. "We had nothing to lose and I had nothing to lose. … Tonight was probably the toughest environment I've ever thrown in because it was so humid. Early in the [game], I really couldn't get a grip on the ball, I was so sweaty."
With McLean leading by four runs, Sullivan walked the Madison leadoff batter in the bottom of the sixth inning, but responded by striking out the next three Warhawk hitters.
"Joey did a great job," Dowling said. "It's been the same story all year long --- when he commands his fastball, he's extremely difficult. When he keeps his fastball down, he gets a ton of groundballs and he was able to locate three pitches today, pretty effectively until the storms came. When he does that, he's tough because he's got the velocity. He always throws strikes, but it's those quality strikes that make the difference for him."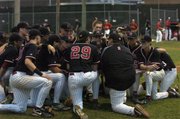 McLean jumped out to a 2-0 lead in the top of the first inning against Madison starting pitcher John DeFazio. The first five Highlander batters reached base, starting with Sullivan reaching on an error and ending with third baseman Jesse Jones drawing a run-scoring base on balls. Left fielder Grady Paine also got credit for an RBI in the inning, when he was hit by an 0-2 pitch with the bases loaded.
McLean added three runs in the fifth inning. Grammes and catcher Caleb Beatty led off the frame with back-to-back singles, and Jones, first baseman Jonathan Clines, and right fielder Evan Blake each delivered an RBI single.
Grammes, a 5-foot-10, 155-pound sophomore, went 4-for-4 at the plate, including a pair of doubles, and played solid defense at shortstop.
"Conor had a fantastic game and he's been, of late, making some very big adjustments that are now paying dividends now on the diamond," Dowling said. "Again, he kind of gets overlooked because he's not physically imposing. He's not the quickest guy, he's not the biggest guy, but nobody squares the baseball up better than Conor Grammes.
"We said at the start of the season that we felt like we had two of the best shortstops in the conference on our team. When Joey pitches, we don't lose a single bit of defense with Conor out there. He did a terrific job."
Beatty went 2-for-3 at the plate. Blake finished 2-for-2.
DeFazio suffered the loss for Madison. The junior right-hander, who is committed to Virginia Tech, allowed five runs --- four earned --- and eight hits in 4 2/3 innings. He walked three, hit two batters and struck out five.
Madison's Nielsen led off the bottom of the third with a double, and Trey Ramsey followed with an RBI single for the Warhawks' only run.
The loss dropped Madison's record to 21-3 and ended its season. The Warhawks entered Wednesday's contest having won 21 of their last 22 games. They won both regular-season meetings with the Highlanders, beating McLean 8-1 on April 8 and 11-3 on May 9.
The Highlanders, however, were much improved Wednesday. McLean, the No. 4 seed from Conference 6, has won six of its last seven games after struggling during the second half of the regular season.
"We started to play loose, because we knew we were the underdog," Sullivan said. "Especially for me. It was my final couple weeks of my senior year and I'm enjoying them in school. We started playing loose, we started playing together. We got hot at the right time. It's been a fantastic ride."
The Highlanders started the season 8-2, but dropped seven of their next eight, evening their record at 9-9.
"For a while now, we've grown into a pretty confident group," Dowling said. "[There was a time] there in the middle [of the season] when we weren't very confident and we didn't have cause to be. The [coaching] staff, we knew the whole time --- and it's tough to convince 16-, 18-year-old kids ---- we knew the whole time we still had the talent, it was just a matter of executing."
McLean will travel to face Chantilly on Friday.