Falls Church — Hot, tired and momentarily hobbled after fouling a pitch off her foot, West Potomac senior Morgan Maniglia met her father, head coach Craig Maniglia, along the third-base line for a moment of composure.
Facing Chantilly in a regional softball quarterfinal matchup on May 28, Morgan Maniglia had limited the Chargers to one unearned run during 10 innings in the pitcher's circle. However, the Wolverine slugger had gone 0 for 4 at the plate, failing to hit the ball out of the infield. With two outs and the go-ahead run on second base in 11th inning of a tied game, No. 10 recognized the opportunity in front of her.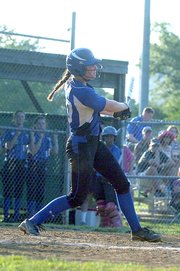 "[Coach Maniglia] just told me to shake it off and that I was due, and I knew I was due," she said. "When I went up to bat I knew it was my turn to hit. I was pretty confident … In my head, the whole time I was thinking this could be my last time ever stepping into the batter's box and having it mean something. That was kind of pumping me up, too."
Facing a 1-2 count, Maniglia launched a two-run home run — her 10th of the season — well over the left-field fence, propelling West Potomac to a 3-1, 11-inning victory at Falls Church High School. After Maniglia connected, Craig Maniglia, standing in the third-base coaching area, turned his back to the infield and watched the ball sail over the fence with his hands in the air.
"As soon as it was off the bat, I knew it was gone," the coach said. "You could just tell [by] the trajectory. Apparently, it landed in the parking lot."
The win secured West Potomac a spot in the semifinals and earned the Wolverines their first trip to the third round of the region tournament in program history. West Potomac's victory came one year after the Wolverines lost a 12-inning battle against South County in the Patriot District championship game. Maniglia threw 155 pitches in that contest, limiting the Stallions to two hits through 11 innings before surrendering a pair of unearned runs in the 12th. West Potomac's 2011 season ended with a loss to Oakton in the region quarterfinals.
This year, West Potomac lost to Lake Braddock in the district semifinals, but responded by beating Yorktown and Chantilly to advance to the region's final four. On Monday, Maniglia threw 124 pitches — 81 for strikes — while allowing five hits, walking four, hitting one batter and striking our six.
While Maniglia had already experienced a marathon postseason pitching performance, the 2011 district title game was played at night. Monday's contest was scheduled for a 4 p.m. start on a blazing hot Memorial Day with temperatures around 90 degrees. Maniglia, this season's Patriot District Pitcher of the Year, said she started feeling light-headed around the fifth inning, but continued to push forward.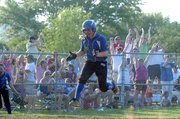 "I poured a whole water bottle on me in the dugout and sat down and was like, wow, I don't know how we're going to finish this," she said. "But [I] just pulled some energy together."
West Potomac took a 1-0 lead in the first inning, when catcher Jasmine Picini's two-out RBI single plated center fielder Danielle McHugh, who led off the frame with a bunt single. From there, Chantilly pitcher Alex Sallberg shut down West Potomac, limiting the Wolverines to two hits during the next nine innings.
With one out in the 11th, McHugh ripped a double down the left-field line, ending a nine-pitch at-bat. Two batters later, Maniglia hit the game-winning homer.
"I was running around and I couldn't see the ball. I thought either it's a pop up, it's going to end the [inning], or we're going to win," McHugh said. "I saw coach's face and I was like, that's it, that's the game."
McHugh, a senior who will play at Tennessee Tech next season, finished with three hits and scored two runs. She also made several clutch defensive plays in center field.
With one on and one out in the third inning, Chantilly left fielder Emily Gembarowicz smashed a double over McHugh's head. McHugh picked up the ball near the fence in center field and threw to third base, gunning down a Charger who was trying to advance from first.
With two outs and the winning run on second for Chantilly in the bottom of the seventh, McHugh raced in from center field to catch a pop up behind the left side of the infield. With one out in the ninth, she made a diving catch in the left-center gap.
"She played her A game," Morgan Maniglia said of McHugh. "She knew this wasn't going to be her last high school game and that pumped us up."
West Potomac faced Stone Bridge in the region semifinals on May 30. Results were not available prior to the Gazette's deadline.
"I think what this was all about was just [frustration]," Craig Maniglia said. "Four years, losing championship games in 12 innings — not this time."