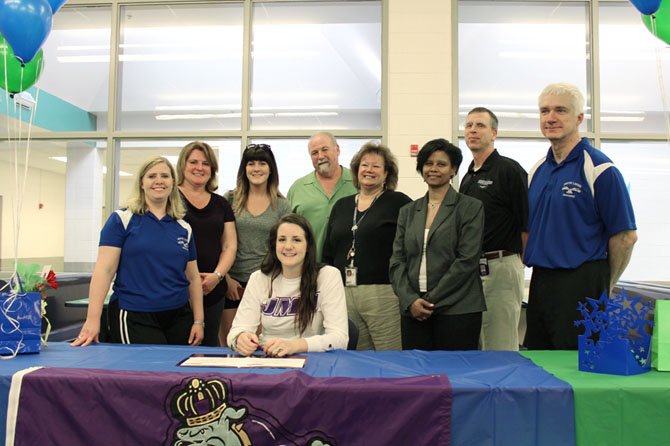 Reston — Sarah Delaney, a senior at South Lakes High School and a key member of the Seahawks' volleyball team during her four years with the program (three as a varsity team member), recently signed a collegiate letter of intent to play the sport next school year at James Madison University in Harrisonburg.
Delaney holds South Lakes' single season record for the most blocks per season as well as most kills per season.
This past fall, her senior season, Delaney was a team captain and earned a varsity letter at middle hitter position. She earned First Team All-Liberty District honors as well as being named Honorable Mention All-Northern Region.
Among team accolades, Delaney earned the Offensive Player Award as well as Top Blocker Award. She was also among those Seahawk student-athletes to be named to the Athletic Honor Roll.
Her junior season, Delaney was part of a Seahawks' team which earned credentials as the school's Top Academic Varsity Sports Team. That season (fall of 2010) saw Delaney, as a middle hitter, earn Second Team All-District success as well as varsity letter status. She was selected for both the Offensive Player Award as well as the Top Blocker Award.
Back as a sophomore in the fall season of 2009, Delaney earned a varsity letter with the varsity team. Away from the volleyball court, she was a member of the Latin Club as well as the Tri-M Music Honor Society.
Her freshmen season, Delaney was a member of the South Lakes' JV volleyball squad.
Delaney's head coach throughout her high school varsity career was Cheri Hostetler.
Delaney, along with being a part of South Lakes volleyball for her four years, also played club volleyball for NVVA for two years (2009-2011) and the Virginia Elite for a year (2011-12 school year).