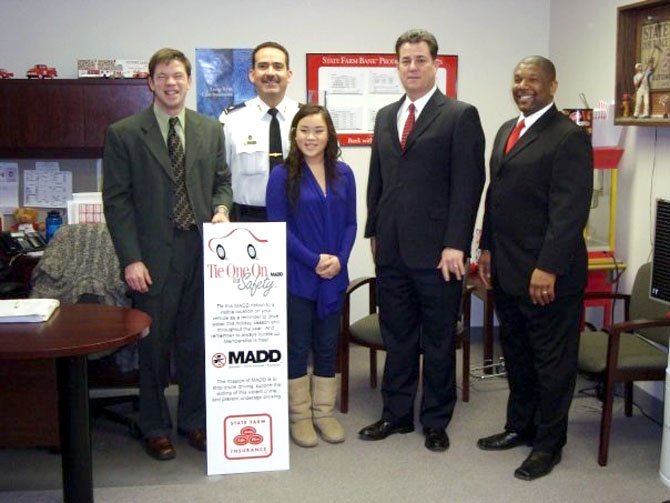 Centreville — Centreville High School junior Melissa Stegner is one of 10 students who were chosen to be part of Mothers Against Drunk Driving's first Power of You(th) National Teen Influencer Group.
Stegner was selected because of her efforts to prevent drunk driving at Centreville High. Some of her efforts include creating a Facebook group to which she invited the whole school, making announcements through the PA system and hanging banners in the halls.
Four other students were selected for similar efforts, and the remaining five were selected for their entries in a national video contest against underage drinking.
The students received an all-expenses-paid trip to attend MADD's National Teen Influencer Summit in Dallas, Texas, in late June to discuss how best to influence teens to take a stand against underage drinking.
"I think I want to let the students know the impact that you can […] have through social networks and informing students about the dangers of drinking and driving," Stegner said.
Noreen Dinndorf, a senior victim advocate for MADD, said she met Melissa through her mother, Yumiko, who came to one of MADD's support groups after losing her husband and son in a wreck caused by a repeated drunk driving offender.
When Dinndorf met Melissa, she told her about an opportunity to speak about her loss at a high school along with a woman who had lost her daughter to a drunk driver.
Dinndorf said Melissa personalized her experience in such a way that the teens who were the audience could relate and that she was impressed with how she handled the speech.
"It's amazing how even though she became a little emotional, she made it through the speech," Dinndorf said.
Stegner has spoken a number of other times for MADD since, and Dinndorf said that Stegner was always enthusiastic about attending whatever events were presented to her. In addition to speaking at high schools, Stegner also attends probation meetings and court hearings for people convicted of driving under the influence.
Stegner also started Centreville High School's Students Against Destructive Decisions chapter last fall. The group has 35 members and meets monthly to plan events to raise awareness about destructive habits around holidays and others high risk times of the year. One of these times is prom, which is the next event SADD will raise awareness for.
"Having a prom night that you can remember later is better than having a risky one," Stegner said.
Stegner is considering attending Virginia Commonwealth University.
"Through SADD and Mothers Against Drunk Driving," Stegner said, "I've realized that I want to work with people hands-on."