Document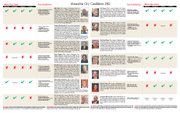 Are voters pleased with the recent direction of city government, which has dramatically increased the amount of density available to developers in recent years? Or are they willing to say no to growth and development that could bring new tax revenue? Are they willing to support elected officials who doubled tax bills over the course of the last decade? Or do they want to support candidates who call for spending cuts but are reluctant to identify which programs they would cut to reduce tax bills?
Voters are left with difficult choices, but clear distinctions.
Rarely have the choices been this clear for voters, with candidates clearly divided on the major issues of the day. Perhaps no other issue has been more polarizing than the waterfront plan, which would almost triple the amount of density at three sites compared to what's there now. Of the 12 candidates on the ballot next week, six say they would have voted against the plan and five say they would have voted for it. One candidate won't say how he would have voted. The issue is also the marque issue in the race for mayor, with three-term incumbent mayor Bill Euille pinning his political future on the proposal. His challenger, independent candidate Andrew Macdonald, has been the leading opponent.
"Development in Alexandria should not be the cart leading the horse," said Macdonald at a recent debate. "Revitalization should clearly be beneficial and sustainable, and everyone should agree that we are moving in the right direction."
Euille disagrees, defending the recent course of events in Alexandria.
"For all the things, Mr. Macdonald, that you and a few folks in this community are raising Cain over and suggesting that everything is wrong and that we've been a failure at it, it's just the opposite," Euille said at a recent forum. "If you get out and be among people in the community, if you go and attend events and if you are all over the city like I am, and if you are even outside the city like I am, you will hear from people that they are very pleased."
WHETHER OR NOT voters in Alexandria are pleased will be settled at the ballot box. Many of the city's recent decisions have become flashpoints, including major land-use decisions. The waterfront plan added 63 percent of allowable density compared to what's there now. The Beauregard increased allowable density 106 percent compared to what's there now. All of the incumbent Democrats and the two former incumbent Democrats seeking to return to office support both of these plans, despite vocal opposition during a series of contentious public hearings.
"I think Beauregard is primarily a mismatch between land-use development and transportation planning," said Bob Wood, Republican candidate. "I don't think the transportation planning was done adequately to resolve the issues that were raised by the amount of density going into the Beauregard plan, so essentially they were out of synch in terms of satisfactory solutions for transportation to match the scale of development involved."
Several of the candidates are critical of the City Council's recent decision approving Corridor C, a controversial high-capacity transit corridor on the West End. Many neighborhood residents say widening the road to accommodate for the transit lane would remove tree canopy and inconvenience them for the benefit of people commuting through their neighborhood. Republican Councilwoman Alicia Hughes initially voted for it, although she later tried unsuccessfully to change her vote during the public hearing.
"It didn't feel right, and when I realized before the meeting came to a close I sought to change it," said Hughes. "And that is something that public officials have the right to do. That's why we have rules, and that's why there are parliamentary procedures in place that, when people are being considerate, would allow us to do that."
THE CAMPAIGN for City Council this year is unlike any other. The most dramatic difference is the timing of the election, which will be in November for the first time in the city's long history. After losing two seats in May 2009, the all-Democratic members of the lame-duck council moved the election to November — when record number of Democrats are expected at the polls. The campaign has also been marked by sharp exchanges between the candidates, including a dramatic back-and-forth at George Washington Middle School in early October when former Councilman Justin Wilson went on the attack against Republicans Frank Fannon and Alicia Hughes.
"There they go again," Wilson said. "Just like in 2009, Councilman Fannon and Councilwoman Hughes are resorting to the same, tired national talking points about taxes."
Wilson said that months after being sworn in, both Fannon and Hughes proposed a higher tax rate during the add-delete work session. The two Republicans ended up voting against the budget that year, but Wilson said their willingness to propose a higher tax rate during the budget negotiations demonstrated that they were trying to have it both ways.
"Mr. Wilson voted for a tax hike the week before he lost the election," Fannon responded. "Without me on the City Council, you will continue to see your tax bills rise."
THE DEBATE ABOUT taxes and spending is at the heart of the campaign this year, with candidates taking various positions on a number of issues. Libertarian Robert Kraus, for example, repeatedly called for the city to return to 2007 spending levels. But when asked about which line items he would cut to make that happen, Kraus says he won't know specifics until an audit is conducted.
"I'm running for City Council because I'm angry," said Kraus at several candidate forums. "I'm angry as a homeowner because we are paying too much taxes."
Unlike issues such as development, where local politics is reversed from the national trend, issues of taxes and spending are falling along traditional party lines this election cycle. Republicans charge Democrats with being wasteful, and Democrats charge Republicans with being unreasonable. When a debate erupted over the council's recent actions at one of the debates, Councilman Paul Smedberg offered a defense of the council's recent spending priorities.
"It's very easy to say you are going to cut taxes," said Smedberg. "But if you look at the city's budget, a local budget is about the priorities the city sets. It's not about something they do at the national level or even the state."
THE CLASH BETWEEN Wilson and Fannon became a running theme of the campaign, with both sides jousting at each other over the last several weeks. When Wilson suggested that the city offer childcare at public meetings, Fannon shot back.
"Getting people to the meetings is an important thing," said Fannon. "But I don't propose raising taxes to pay for babysitters as Mr. Wilson just endorsed."
"Mr. Fannon apparently doesn't want to raise taxes to provide for increased community engagement," responded Wilson. "But in his first budget he did want to raise taxes to provide money for the Alexandria Pipe and Drum Corps."
That comment sparked an immediate response from the crowd, which began booing and hissing the former councilman. Then Hughes jumped into the fray, criticizing Wilson's repeated attacks on Fannon.
"It's vitriolic," said Hughes. "And it's something that does not reflect the best that we have to offer."
"Telling the truth is not vitriolic," Wilson responded after the debate.