National Men's Chorus will begin its 14th season with a concert of music appropriate for Veterans Day on Saturday, Nov. 10, at 7:30 p.m. at Aldersgate United Methodist Church, 1301 Collingwood Road in Alexandria. This is the first time the Chorus has performed a full concert in the Mount Vernon area.
The program will be conducted by Founder and Artistic Director, Thomas Beveridge, and will feature the renowned pianist, Thomas Pandolfi. The Chorus will perform a selection of American patriotic music, including The Star Spangled Banner, with a rarely heard verse by Oliver Wendell Holmes and a new verse by Jay Kelly Wright; Songs of the American Wars, including Chester, Tenting Tonight, The Battle Hymn of the Republic, Ballad of the Green Berets, and A Sentry's Prayer by Fred Gray, written to honor his son fighting in Afghanistan.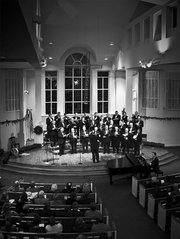 Other works will include selections from Randall Thompson's Testament of Freedom, Thompson's famous Last Words of David, Psalm 121 by Peter Cornelius, Dirge for Two Veterans by Gustav Holst, and From the End of the Earth by Alan Hovhaness.
In addition to accompanying the chorus, Pandolfi will play Polonaise in A Major, Op. 40, No. 1 ("Military"). Performing throughout the United States and extensively in Europe and China, Pandolfi has been hailed as one of America's finest virtuoso pianists.
Beveridge has had a distinguished career as a solo singer, keyboard artist, teacher and conductor. He has composed more than 600 original works, including 150 arrangements for male chorus, most of which are in the repertoire of National Men's Chorus. His signature composition, The Yizkor Requiem, is available on two commercial CDs, one by Sir Neville Marriner and the Academy of St. Martin in the Fields. The New Dominion Chorale has scheduled its sixth performance of The Yizkor Requiem on April 7, 2013 under the baton of Beveridge in the Schlesinger Concert Hall at the NOVA Alexandria Campus.
National Men's Chorus has performed at the Library of Congress, The National Gallery of Art, Washington Street Methodist Church in Old Town Alexandria, and the Cosmos Club. The Chorus has also performed several times at Mount Vernon honoring new citizens on Flag Day and in the Terrace Theater at the John F. Kennedy Center for the Performing Arts in a rousing celebration of its 10th anniversary. The Chorus's performance of Randall Thompson's Testament of Freedom with the Alexandria Symphony received rave reviews. The CD recording of American patriotic music by National Men's Chorus and featuring The Washington Symphonic Brass and organist, Paul Skevington, has sold more than 20,000 copies nationwide.
Tickets for the concert will be available at the door for $20. Students and children admitted free. Visit www.nationalmenschorus.org or call 202-244-7191. The church provides ample free parking.