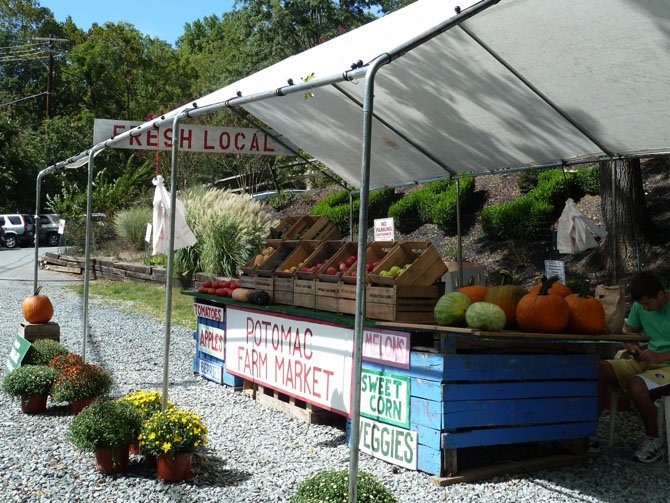 Mark Reges, proprietor of the Old Angler's Inn and Steve Magassy, owner of the Potomac Farm Market have formed an innovative partnership — one that leads to two local businesses beneficially supporting one another. Their partnership enables Old Angler's to serve fresh vegetables and fruit that have been locally picked early in the morning and delivered to their door, and gives the Potomac Farm Market another venue for selling their produce. Every morning, Chef Nick Palermo contacts Magassy to discuss what vegetables he can expect that day in order to plan his menu. On Saturdays and Sundays, the Potomac Farm Market has erected a stand that sells their produce to those who drive by, bicycle or park at the near-by C&O Canal entrance — or to diners who want to take home the vegetables they consumed at Old Angler's Inn.
Magassy, a Bullis graduate who resides in Potomac, owns and operates seven Potomac Farm Markets in the area. He explains his business plan: "We bring the farm to you. We have farm stands at River Road and Congressional Place, Glen Echo, Quince Orchard, Montrose Road and additional places in Montgomery County. Everything we sell is grown locally — within 20 miles — and picked for sale that day. The fruit and vegetables must be ripe in order for it to be picked at its peak. Nothing is ever refrigerated or shipped in."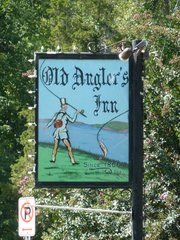 "We open in June with fresh vegetables and fruit, then in the fall, we carry pumpkins, then on to Christmas trees, and from January through March we sell firewood and remove snow. Once winter is over, the growing season begins again and we start the cycle again."
"Old Angler's Inn is one of the few restaurants that truly serve locally grown fresh products. They do a phenomenal job of offering a menu that makes the most of the fresh produce," Magassy said. "No one should ever leave OAI after lunch or dinner without a smile on their face. They really serve exceptional food."
"We are pleased that the partnership works so well," said Reges. "The vegetables and fruit are fresh which makes each dish taste that much better. The farm stand on our grounds makes it convenient for our community neighbors to purchase wonderful fresh produce right here on MacArthur Boulevard. It is a wonderful partnership which works well and makes me proud that two local businesses are helping one another."
The Potomac Farm Market is open on Saturday and Sunday from 10 – 6 at 10801 MacArthur Blvd., Potomac. Its website is www.potomacfarmmarket.com.
Old Angler's Inn is open daily except Monday from noon – 10 p.m. (except Sunday when they are open from 11:30 a.m. – 9 p.m.). The restaurant features music in the Beer Garden (casual) every Friday evening. Their outdoor patio dining is a one-of-a-kind delight in the Washington D.C. area. For reservations, call 301-365-2425. The restaurant also features Happy Hour Tuesday through Friday from 4:30 – 6:30 p.m.