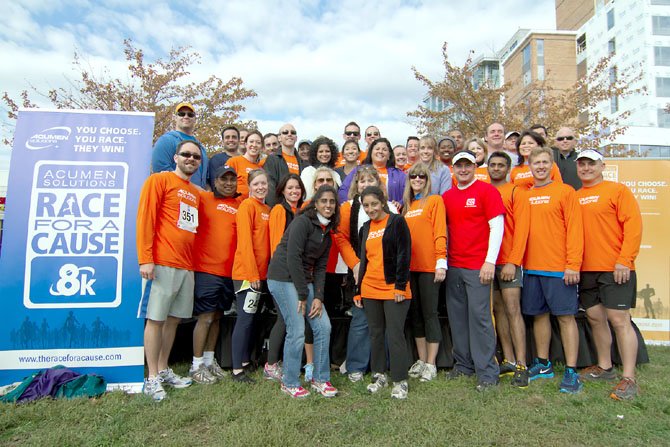 From children wearing superhero capes to costume-clad adults to tots in strollers, participants took to the streets of Arlington last month to raise money for charity as part of the fourth annual Acumen Solutions Race for a Cause 8K and One-Mile Fun Run.
"This year's Race for a Cause was a shining example of the power of community. Our goal is to not only raise awareness and much needed funds for our 10 nonprofit partners, but to engage the community in a way that enables us all to feel the impact," David Joubran, Acumen's president and CEO, said in a statement.
Acumen Solutions identifies 10 local nonprofit organizations that they dub "superheroes." Through race registration, more than 3,000 people selected and secured funds for one of the 10 organizations. The nonprofit organizations also help raise money. The Boys & Girls Clubs Alexandria-Olympic and Fairfax share the first place spot.
Photo Gallery
MC_RaceForACause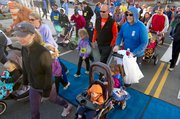 Click Photo for Flash
"Our teamwork made it possible. We recruited runners and donors and sponsors," said Wonhee Kang, the regional director of Fairfax County Boys & Girls Clubs of Greater Washington.
The Women's Center in Vienna placed second, followed by Greenbrier Learning Center in Arlington. "We are thrilled and delighted to have won second place thanks to the efforts of our board, our staff, our therapists and all of our community supporters. We had a wonderful showing of support," said Carol Loftur-Thun, executive director of the Women's Center in Vienna.
"We offer counseling services to more than 2,500 people from D.C., Maryland and also right next door in McLean and Great Falls," she continued. "About 60 percent received counseling services at a reduced fee or less. The race and the funds that will be awarded will go to help support our services."
Even those who were not among the top winners saw the race as an opportunity to increase their visibility in the community. "What I love about this event is that all kinds of people sign up to race. They learn about the nonprofits in their community who are doing good work and they can sign up to volunteer," said Patti Donnelly, Executive Director of the Literacy Council of Northern Virginia in Falls Church. "We tutor adults who are learning to read, write and speak English all throughout the Northern Virginia region, from Alexandria to Herndon to downtown Fairfax to Arlington County. We need to reach a lot of people in Northern Virginia."
Other participating nonprofits that will also receive monetary funding include Our Daily Bread in Fairfax, The Reading Connection in Arlington, and Washington, D.C.-based Education Pioneers, Young Playwright's Theater, United for D.C., and For Love of Children. Funding will be announced and distributed at a Nov. 28 race celebration event.
This story has been updated to correct the first place finishers: The Boys & Girls Clubs Alexandria-Olympic and The Boys & Girls Clubs Fairfax.