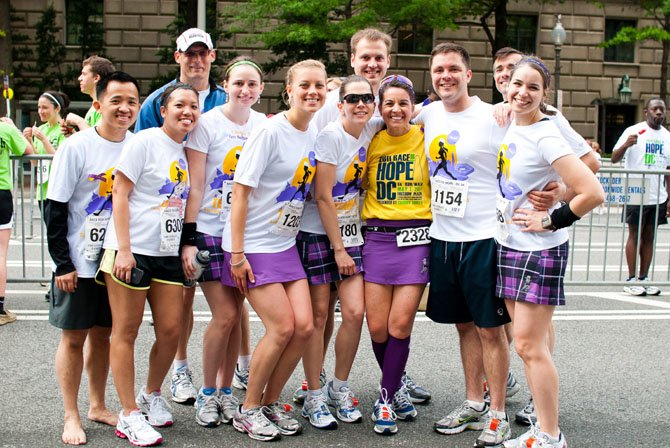 After surviving breast cancer, chemotherapy and radiation, Centreville's Vanessa Spiller is doing well and hopes to soon receive a clean bill of health from her doctor. Fair Lakes resident BethAnn Telford was diagnosed with a Stage III brain tumor in 2005, and is still fighting for her life.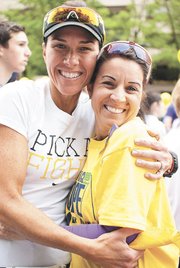 And on Saturday, March 24, at the Fairfax Corner Shopping Center, the Rev3 Run Rogue 5K will be run in their honor. All proceeds will be split evenly between Life with Cancer www.http://lifewithcancer.org/ and the National Brain Tumor Society http://www.braintumor.org/.
But the two, local women won't be sitting on the sidelines. Both are athletes and, on race day, they'll be running in the 5K. "Vanessa and I will be at the starting line clad in superhero capes, appropriately marked with the words, 'Beat Cancer,'" said Telford.
The pair will start the race 30 seconds before anyone else, and then — for every 5K participant who passes them — one of the event's sponsors will donate $1/participant in support of the two charities.
Rogue Racers and Rev3 Adventures are putting on this fund-raiser.
Rogue Racers is a Fairfax-based, running/triathlon club. Rev3 Adventures puts on adventure races in, for example, mountain biking, running and canoeing.
The March 24 event promises to be fun and family-oriented. Participants may walk or run a USATF-certified 5K course at 8:30 a.m., or participate in a 1K kids' fun run at 8 a.m., before the main event. Both courses start and end in front of Coastal Flats restaurant. Strollers are allowed in the 1K, but no dogs in either race.
Cash prizes will be given to the top three male and female finishers, and the first-place winners will also receive coupons for a free pair of Brooks shoes. There'll be age-group awards, too, plus over-40 cash prizes. Sign up at http://www.runrogue5k.com/Run_Rogue_5K/Race_Info.html. Donations may also be made there. Registration is $30, 5K; and $15, 1K, ages 8 and under.
The fun includes Starbucks pastries and coffee, face-painting and music. Every finisher will receive a Ben & Jerry's ice-cream cone, and every child in the 1K will get a medal.
Both Spiller, 46, and Telford, 42, have been good friends for several years. They run and train with Rogue Racers for various competitions, including the upcoming Boston Marathon in April.
Spiller and her husband Michael, of the Confederate Ridge community, are the parents of son Cole, 12, and daughter Courtney, 10, who both attend Bull Run Elementary. All was well until April 2011, when Spiller was diagnosed with stage II breast cancer.
Hearing the diagnosis, she said, "You literally feel like a bomb has gone off in your lap — the pieces fall slowly and your world just stops. Then you instantly go into treatment. I was in the best shape of my life, healthy and with no history of cancer. I did the Marine Corps Marathon in Oct. 2010 and, that same month, qualified for the Boston Marathon."
Instead, Spiller had to defer running in that race. A tumor in her breast had metastasized so, once doctors removed it, she then underwent six months of chemo, followed by radiation.
In September 2011, Holly Jahshan of Rogue Racers told Spiller the company wanted to create a 5K for two of its members — her and Telford — and give 100 percent of the proceeds to charity. Rev3 Adventures will help with race operations. Telford's fund-raising organization, Team BT, raises money for the National Brain Tumor Society, so it will receive half the proceeds.
"I chose Life with Cancer because they'd done so much for me," said Spiller. "I was treated at Inova Fairfax Hospital and Life with Cancer is affiliated with them. I wanted information about good nutrition and cancer so I'd be strong to endure the chemo treatments. I also wanted to do yoga and meditate, but not at a gym, since the chemo had changed my physical appearance."
She did all these things, for free, through Life with cancer. "They were welcoming and friendly," said Spiller. "It was so comforting to walk into a place where you weren't different, but accepted. It was full of empathy and compassion."

She finished treatment in November 2011 and is a personal trainer and a nutritionist with her own business, Get Healthy with Vanessa.com, working with individuals and corporations.
"I feel really good now, but I have a new normal," said Spiller. "I tire more easily, run a little slower and have less energy. The side effects from chemo, such as joint pain, are astronomical, and don't go away instantly." Her hair has now grown back, but it was traumatic losing it during treatment, so the 5K proceeds will help others in this circumstance.
"Life with Cancer is trying to raise money to build a beauty salon where women can have their heads shaved, for free, in a private and pretty place," said Spiller. "Second to the day they told me I had cancer, that was the most emotional day of my life. So I feel for other women who have to go through this and I want to help them through it."
Now looking forward to April's Boston Marathon and other challenges afterward, she said, "One huge lesson I've learned is how important it is to have an athletic goal or dream when facing difficult, physical setbacks. A cancer diagnosis is frightening and challenging, but it doesn't have to control you. It can inspire you to live life fully."
Spiller even began a running club at Bull Run Elementary to prepare children to run in the March 24 event. The 85 children involved also learn about nutrition and the importance of raising money for a worthy cause.
She's "humbled and honored" that the Rev3 Run Rogue 5K will be run partly in her honor. "I feel it respects me and the power of the disease," she said. "And we're able to give all the proceeds to charity because of our generous sponsors, especially Ben & Jerry's, Peva, Brooks and Pacers, plus our dedicated volunteers and the charities, themselves."
Participants will receive commemorative T-shirts in black; survivors' shirts are green. Said Spiller: "The cool thing is that, on the back, they say, 'I run for,' and people can fill in the name with a Sharpie."