For the Love of Art, WSC Avant Bard, the resident theatre company at Artisphere, presents Nobel Prize-winning playwright Luigi Pirandello's "Six Characters in Search of an Author." Opening WSC Avant Bard's 23rd Season, Tom Prewitt directs this classic existential piece, which explores the crossroads of identity and reality.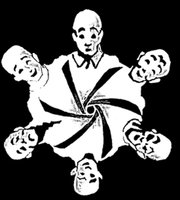 Pull back the curtain to explore the competing worlds of "Six Characters in Search of an Author." Set during a rehearsal for Pirandello's The Rules of the Game, the play opens on a director and his actors interrupted by the intrusion of six characters, orphaned by their author, and insisting upon having their story immortalized on the stage. Out of the ensuing struggle between reality and theatrical convention arises Shakespeare's age-old question, "Is all the world a stage?"
Prewitt and his cast have rolled up their sleeves to get to the bottom of this dualistic piece. "Six Characters" raises issues of personality and identity: Is who we are today the same person as who we were yesterday, or who we will be? This "meta-physical ghost story" wants to challenge you to ponder these questions: Are our identities even our own?
Brian Hemmingsen and Nanna Ingvarsson, founding ensemble members of Washington Shakespeare Company, play the "Father" and "Mother," alongside their real-life son, Sebastian Ingvarsson-Hemmingsen, who plays the "Boy." WSC Avant Bard has often been praised for being a family of artists, but this is one of the first times they've had a real family on stage.
WSC Avant Bard Acting Company Member Sara Barker plays the "Stepdaughter." Jon Jon Johnson doubles as the production's Assistant Stage Manager and the character of the "Stage Manager," and will once again be serenading the audience with his violin virtuosity.
"Six Characters in Search of an Author" not only provides audiences with food for thought regarding the permanence of fictional characters versus the fleetingness of human life, it delivers a wallop of dramatic intrigue via a family whose dysfunction easily rivals that of the most sordid of reality TV families.
"Six Characters in Search of an Author" runs through Sunday, Dec. 9. In the Black Box Theatre at Artisphere, 1101 Wilson Blvd. Tickets are $10 - $35.
Previews: Through Wednesday, Nov. 14
Opening/Press Night: Thursday, Nov. 15
Regular Run Begins: Friday, Nov. 16
Contact the Artisphere box office at 1-888-841-2787 or email wsc.tix@gmail.com. Information is also available at wscavantbard.org.