The date is Nov.18, 1812 and the nation has been at war with England since June. Join President James Madison on Sunday, Nov. 18, 2012 to discuss the progress of the war, with updates on the Army and Navy situation. He will also share his thoughts on financing the war, including taxation.
As presented by John Douglas Hall, at Gadsby's Tavern Museum, this on-going series of presidential salons began in 2010 and continues through 2014. Public questions and opinions related to the salon topics are welcome and encouraged.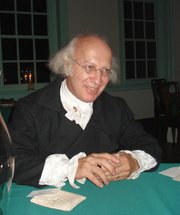 The salon, held in the Main Dining Room of Gadsby's Tavern Restaurant, will be from 3-4:30 p.m.; check-in will be at Gadsby's Tavern Museum, 134 North Royal Street. Reservations are recommended and tickets to each event are $15 per person and $10 for high school/college students. Madeira, Port and other libations will be available for purchase at the event. To purchase tickets, visit www.gadsbystavern.org or call 703-746-4242.