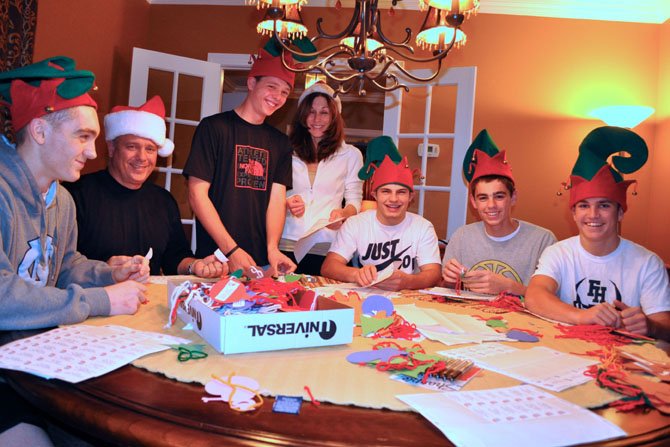 Our Neighbor's Child isn't waiting until Black Friday to start planning for the holidays. It can't — not when it has to make sure that 580 local families receive Christmas presents.
Now in its 21st year, the all-volunteer, nonprofit group has already started on its massive mission of providing holiday happiness for people in need in Centreville, Chantilly, Clifton, Fair Oaks and Fair Lakes.
But ONC can't do it alone; it counts on residents and businesses in the local community to open up their hearts and wallets and donate the new toys and clothing that's so desperately needed.
"This year, we'll be serving an estimated 2,200 children and we have more clothing requests than ever," said ONC Executive Director Kelly Lavin. "So Stephanie Somers, our ONC project leader in charge of clothing donations, needs people to 'adopt' families and purchase their children's clothing needs."
Somers may be reached at somers06@cox.net. And with the temperatures falling and winter fast approaching, the need for warm clothing – such as coats, hats, jackets, mittens, sweaters, etc. – is especially urgent.
A 2010 Brookings Institution study showed that, in Washington, D.C.'s Virginia suburbs, Centreville and Chantilly are among the top four locations in recent years with the largest increases in the number of people living in poverty. And these are the families that ONC helps.
FCPS Guidance counselors and social workers are generally the source for referrals, and the majority of the families served have qualified at income levels consistent with Fairfax County's Free and Reduced Price Lunch program.  
The referrals are collected by Our Daily Bread and either re-routed to groups like Our Neighbor's Child (for western Fairfax County) or "adopted out" individually in areas without a similar organization.
So Lavin's hoping that local residents will go to the various local churches, schools and businesses hosting ONC giving trees, pick ornaments from them and buy the requested gifts for the children and teens who, otherwise, would receive nothing on Christmas.
Meanwhile, the ONC volunteers have been busy making the paper ornaments for the giving trees, collecting the families' wish lists, transferring the hoped-for items to labels and attaching the labels to the ornaments. And with nearly 7,000 ornaments and labels needed (children receive more than one gift), it's a huge undertaking.
MORE THAN 4,000 of the ornaments were made by teacher Jennifer McGee's students at Stone Middle School. And Monday night, volunteers gathered 'round a table in Centreville's Virginia Run community and attached the labels to the ornaments. 
The Hagan family has opened its home for this event every year since sons Matt and Kevin were in elementary school. They're now juniors at Westfield High.
"When the number of ornaments reached the thousands, we realized we needed an 'assembly line' of support," said Lavin. "The Hagans' home has always been a favorite gathering spot for the neighborhood boys, and [parents] Mike and Kathleen were more than willing to help." 
ONC database manager Nicole Rogers noted, too, how things have changed over the years. "When the boys were in elementary school, the moms used to stay and help," she said. "Now they drive themselves." 
It takes some 400 volunteers overall to enable ONC to carry out its work. But, said Lavin, "We have a great team of project leaders. Everyone is back from last year and we've added some terrific new faces, as well."
Describing ONC as "truly a community effort," she said, "We believe we've built a model that works so that, even in the toughest economic times, everyone can do a little or give something. Our efforts are divided into smaller, do-able tasks. Volunteers are encouraged to jump in where they can and the projects are designed to allow for any sort of time commitment."
"There are many "elves" behind the scenes who work to ensure that the process goes smoothly and the attention to detail is the same from the first child to the last," continued Lavin. "We take it very seriously."
For the past few weeks, volunteers have gathered in office space donated by A&A Transfer Co. in Chantilly. Each child's gift wish was entered into a spreadsheet in order to become a giving-tree ornament label. Those helping with this task included Phyllis White, Denise McInerney, Nicole Rogers, Quinn Rogers, Lee Ann Mondloch and Kim Latham.
"We're still receiving referrals and would welcome a few more volunteers who are available to help with data entry now and can return later on our Dec. 13 packaging day," said Lavin. More volunteer opportunities are available on the ONC Web site, http://www.ourneighborschild.org.