What could be better than a weekend of shotgun justice? Really.
I'd always learned about a pristine, mannerly and sweet Commonwealth in my grammar school days at John W. Daniel School. We studied "The Story of Virginia" almost as the gospel truth and ignoring any such things as warts. It was an unvarnished view of the joyful lives of what was really two Old Dominions back in the "good old days."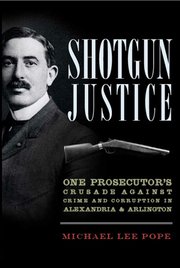 Michael Lee Pope, a newspaper and broadcasting reporter, is also an author of books on the foils and foibles of Alexandria, Arlington and District of Columbia.
In his latest work he includes some of the ill repute which may have clouded the communities and state throughout the last century-plus.
"In Shotgun Justice: One Prosecutor's Crusade Against Crime and Corruption in Alexandria & Arlington," Pope has come up with 126 pages of facts worthy of inclusion in all schools, public and private.
In today's world, imagine Del Ray's Arts on the Avenue programs and other assorted community events that draw hundreds to fun and games and foods of all sorts. A century ago Del Ray was filled with saloons, gambling halls, bawdy houses, horse-racing and political machines. Old Town Alexandria also had its houses of ill-repute around Lee Street to three blocks north of King Street.
Arlington County in those days was known as Alexandria County and had its vice pits in Rosslyn and Jackson City.
Times may have changed but people, in the broadest sense, are still the same. Political machines have always been part of local and state life. John Warwick Daniel and his colleague Thomas Staples Martin ruled the state for decades. Pope writes "their coalition was held together with finesse and flexibility … was more about power than reform."
Pope also writes, "At the dawn of the 20th century Virginia was a cacophony of voices singing out of tune." When Daniel and Martin were finished, Harry Flood Byrd of Winchester came and dominated the state. No one, from the governor's mansion down to every local official, could win an election without the Byrd OK. His philosophy was "pay-as-you-go" and made the state rich.
This rousing book is about the man, Commonwealth's Attorney Crandal Mackey, not even a native-born son, who ended rampant crime and corruption in Alexandria, Alexandria County and Arlington.
"Not only did Crandal Mackey have to work against that deep-seated human impulse to gamble, but he also had to take on some of the highest and lowest men of his era," writes Pope. "He faced down two-bit gamblers. He closed saloons. He got into fistfights with railroad lawyers. And he fought the machine. In the end, his own party turned against him."
This is a fine history lesson. "Mackey was an iconoclast, a reformer and an outcast."
One more thing. George Washington was obviously a visionary. He bought and sold lottery tickets. According to Pope, Mr. Mount Vernon snatched up the first ticket for the first federal lottery. He also worshiped at Christ Church and the Masonic Memorial.
"Shotgun Justice: One Prosecutor's Crusade Against Crime and Corruption in Alexandria & Arlington," 129 pages. By Michael Lee Pope, © 2012 The History Press, Charleston, S.C. 29403.