Fairfax County — Although Fairfax County is a bustling, suburban area with lots businesses, homes and concrete, it still has its share of animals — many of them wild. And both they and people's pets keeps the police department's animal control officers busy.
Andy Sanderson has been a police officer for 20 years and an animal control officer for 15, and he recently shared his knowledge and expertise with members of the Sully District Station's Citizens Advisory Committee. He said residents may call 703-691-2131 to report an incident and that animal-control officers are on call from 6-12:30 a.m. for emergencies.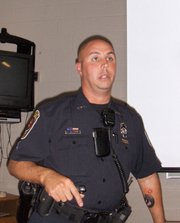 "We cover all 399 miles of Fairfax County, plus the Town of Herndon, and have 28 street officers," said Sanderson. "The administrative people keep us running and give us the data we need in the field."
He said officers are trained in euthanasia, as well as chemical immobilization shot from darts, if necessary. It's used to move an animal from one place to another, but is only used as a last resort.
"We get calls for everything under the sun," said Sanderson. "If it's not human, we get it. People call us for dogs running at large, animals hit by cars, snakes, squirrels in a house and arguments between neighbors over animals — a cat scratched a car or a dog left a 'present' on the neighbor's lawn."
Officers no longer respond to calls about barking dogs, but they do answer calls regarding animal bites and possible exposure to rabies. "In 2011, the Animal Services Division responded to 1,043 reports of animal bites," said Sanderson. "If a dog bites a human, the dog's quarantined for 10 days. Untreated, the rabies virus can be fatal."
Officers also handle rabies certificates, dog licenses, impoundment of loose dogs, plus dangerous-dog and animal-cruelty cases.
"In 2011, we responded to 14,799 calls for service," said Sanderson. "That's a lot of calls for animal-related events. We also do rescues of trapped or injured animals. We responded to 705 reports of animal cruelty, and about 352 of them resulted in arrests and convictions."
That includes pets left in vehicles in extreme heat, as well as animal-hoarding cases. Sanderson showed slides of some of the conditions in which hoarded animals had been living and recalled a case in which officers removed 250 animals out of one room of a house.
Officers are often called for sick or injured wildlife, such as deer and foxes. But, noted Sanderson, "We don't rehabilitate deer, except for injured fawns less than a week old. Animal Control also assists in deer management." He said it's necessary because "an average of 4,500-5,000 deer/vehicle collisions occur in the county each year."
He said rabies transmission to humans is also a possibility after bites from skunks, raccoons and bats. "A telltale sign of an animal with rabies is that their central nervous system is so shot that they can't walk a straight line," said Sanderson.
In addition, he advised the audience, "Close your garage door to prevent bats from getting in. They eat mosquitoes, so they help us combat the West Nile virus."
Now and then, said Sanderson, horses get loose on the road, especially in Clifton. And several years ago, dogs who'd broken free of their yards and leashes broke into a Clifton ostrich farm and frightened the ostriches onto the roads, with Animal Control having to track them down and round them up.
As if all those things weren't enough, Sanderson said Fairfax County "sometimes gets unexpected guests. There was a tiger in a camper, a bear cub running loose in Vienna and a bobcat that was hit by a car in McLean."
Then, of course, there was the case of the alligator that started off as a pet, but turned into something else entirely. "People bought it as a baby," said Sanderson. "But they kept feeding it for 10 years — and it grew."