Police Collect Toys for Ill Children
For the 26th year in a row, the Fairfax County Police Department motorcycle squad is working collaboratively with the Fairfax County Sheriff's Office, Virginia State Police, Fairfax City Police, Falls Church Sheriff's Office, and the Town of Vienna Police to collect and distribute toys for sick children, as well as local charities such as the Ronald McDonald House.
Please consider donating a new, unwrapped toy, game or book at any Fairfax County Police station before Monday, Dec. 10. Donations are also being accepted at the Fairfax County Police Headquarters at 4100 Chain Bridge Road, Fairfax.
The motorcycle officers' "Santa's Ride" collection will take place on Dec. 11; distribution of gifts will take place at Inova Fairfax Hospital on Dec. 12 and Georgetown Hospital on Dec. 13.
For more information, contact the Public Information Office, 703-246-2253.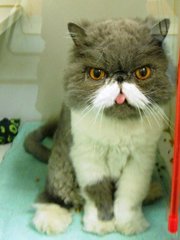 Adopt a Shelter Animal
The Fairfax County Animal Shelter is offering a free spay or neuter for the first 100 cats, kittens, dogs or puppies adopted from the shelter through Dec. 31. The special offer is part of the shelter's annual Home for the Holidays adoption celebration to help homeless animals leave the shelter for stable, new homes in time for the holidays.
The shelter has cats and dogs available for adoption, in addition to rabbits, small mammals, reptiles and birds. To view animals available for adoption, visit http://www.fairfaxcounty.gov/police/animalservices/ and click on adoption. The shelter is at 4500 West Ox Road in Fairfax. Regular adoption hours are Tuesday-Friday, noon-6:30 p.m.; and Saturday, 10 a.m.-4:30 p.m. For more information, call 703-830-1100.
Remembering Leslie Prokop
Members of the board of directors and staff of the Main Street Child Development Center, a nonprofit early learning center located in the City of Fairfax near George Mason University, gathered this week with friends and family of long-time volunteer Leslie Prokop to dedicate the Main Street children's library in her memory. Ms. Prokop was a volunteer and advocate for Main Street, including serving as the school's ESL teacher, from 2005 until her death in September 2012.
"Leslie Prokop was extremely devoted to Main Street and our students," said Main Street board member Elizabeth Egan. "For years, she dedicated her time, attention and considerable talents to teaching ESL at Main Street and the impact she had on our students and their families cannot be overstated."
Woodson Drama Night Out
Woodson High's Drama Department is holding a Drama Night Out for children in grades one through eight. It's set for Saturday, Dec. 8, from 2-8 p.m. Children will have fun on and off stage with other children their age while learning acting, improvisation and musical theater. Woodson theater students
lead theatre games and teach techniques. For more information and to register, go to www.wtwdrama.org. E-mail questions to deniseatsea@aol.com.
First Bike Sharing System Implemented at GMU
GMU recently implemented a bike sharing system at four "stations" around campus. Patriot Bikeshare uses bikes from viaCycle. The bikes are parked at designated bike racks using an attached cable locking system. To use the system, people may either pay a one-time $3 fee to check out a bike for 12 hours or a subscription fee of $6/month available to GMU students, faculty or staff. Guests may also use the system. The first two hours of use are free.
Christmas Tree Fire Safety
Fairfax County Fire and Rescue Department crews distributed Christmas tree safety tags to holiday tree lot vendors during the week before Thanksgiving. These tags provide valuable, fire-safety tips for residents when purchasing a tree.
Residents should keep the tree base immersed in water; not allow smoking near the tree; use only lights approved by Underwriters Laboratories (U.L.); use flame-retardant decorations and paper; inspect lights for frayed or cracked wiring, broken plugs and defective sockets; unplug lights at night and when leaving the home; and remove the tree soon after the holidays, before the needles dry out.