Alexandria — The Alexandria Convention and Visitors Association held its annual meeting Sept. 27 at MetroStage Theater and used the occasion to announce that visitor spending in Alexandria increased 8.1 percent in 2011 to $711 million, generating city tax revenue of $23.1 million.
"Visitors to the city support over 6,000 jobs with a payroll of $118 million," said guest speaker Elizabeth McLaughlin, vice president of research at Virginia Tourism Corporation, who referenced data released by the U.S. Travel Association. "In five years, visitor spending has increased 22 percent in Alexandria, dramatically outpacing increases for Virginia and Northern Virginia, both at 9 percent."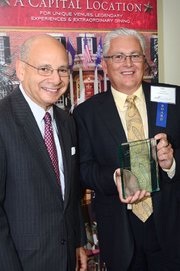 The value of visitor spending to the city was emphasized by Mayor Bill Euille, who highlighted the $100,000 increase in the city budget for ACVA's destination advertising. Euille praised ACVA's accomplishments of the past five years under former President and CEO Stephanie Pace Brown and highlighted two ACVA projects launched this month under acting President and CEO Lorraine Lloyd: the inaugural Fashion's Night Out Alexandria event and new banners on King Street.
Eric Nelson, owner of Artfully Chocolate in Del Ray and Artfully Gifts and Chocolate in the Carlyle community, received ACVA's David G. Speck Tourism Partner of the Year award. A former president of the Del Ray Business Association and key advocate of the soon-to-launch Del Ray-Arlandria trolley, Nelson was honored for his support of the ACVA and also for his contributions to the tourism community as a whole.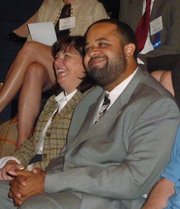 MetroStage hosted ACVA's Annual Meeting, which was attended by members of City Council and members of Alexandria's tourism community including local boutique and restaurant owners. For more information, visit www.visitalexandriava.com.
—Jeanne Theismann