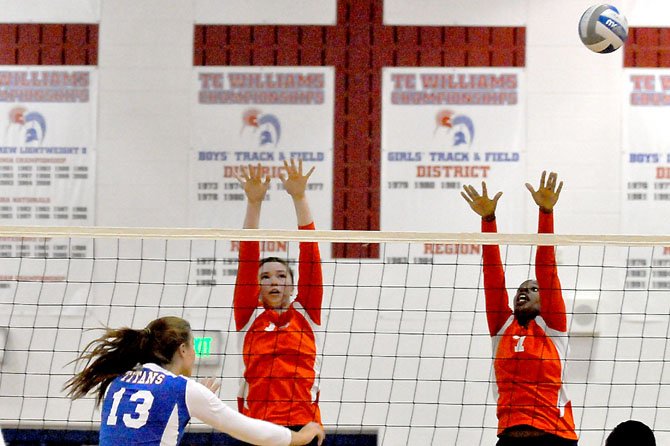 Alexandria — After the lights went out in a literal sense during the West Springfield-T.C. Williams volleyball match on Oct. 2, Spartan senior middle blockers Savannah Schutzmeister and Destini Davis turned the lights out on the Titans in a figurative fashion.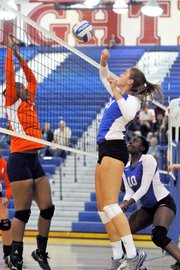 Schutzmeister and Davis combined for a match-ending stuff block on Titans standout Kate Whitmire, adding a stylish finishing touch to West Springfield's 3-1 (14-25, 25-18, 26-24, 27-25) victory at T.C. Williams High School in Alexandria.
The Titans built an 18-10 lead in the fourth set, but the Spartans responded with six straight points and trailed 19-17 when many of the lights in the TC gym turned off during a rally. After a brief delay, West Springfield continued its comeback and eventually produced an energized ending with a stuff block on Whitmire, who finished with a match-high 27 kills.
"I have to say, I don't think there's a more fun way to end a game," West Springfield head coach Stephanie Noriega said, "than on a stuff block against a very respected player."
Schutzmeister and Davis ended the third set in the same fashion, stuff-blocking Whitmire for the final point, capping an 8-1 run.
What goes into blocking a player like Whitmire, a 6-foot-1 outside hitter who is committed to James Madison University?
"You have to read her," Davis said, "and you have to talk to your teammate."
Davis finished with eight kills and Schutzmeister had six.
"I'm so proud of them as seniors," Noriega said. "This is their third year on varsity and it's so fun to see them go from somewhat clueless sophomores [to the players they are now]. They've always been good kids, they've always been hard workers and so they deserve the progress that they've made. It's really fun to see them really have a chance to shine this year as seniors and to be in the spotlight more than they've been in the past."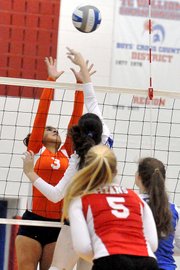 West Springfield started the season 3-5 but won its next five matches. After losing to Fairfax on Sept. 4, the Spartans defeated Hayfield, Oakton, Robinson, Washington-Lee and the Titans, who entered Tuesday's match ranked No. 3 in the Northern Region Volleyball Coaches Association top 10 poll.
Junior outside hitter Jennifer Zimmerman finished with a team-high nine kills against T.C. Williams. Junior outside hitter Monica Naderi-Colon had eight kills, senior opposite hitter Adrienne Melean had seven kills and senior middle blocker/outside hitter Madelyn McMurray had five.
West Springfield lost the first set, 25-14, and trailed by at least five in sets three and four, but found a way to get the job done in its Patriot District opener.
"We have moments where we don't play well, but they get out of it," Noriega said. "They don't stay in a volleyball funk for very long. That's definitely one of their strengths. They pull themselves out of it. It's really not me. It's all coming from them. They never give up [and] they fight hard. We've had [multiple five-set matches] this season where we've gone to five and won and it's because they fight until the bitter end, and I love that about this team."
West Springfield lost to Centreville, 3-0, on Oct. 4, dropping its record to 8-6. The Spartans will travel to face Lake Braddock at 7:15 p.m. on Tuesday, Oct. 9
"It comes as a message for the rest of the district," Schutzmeister said about beating T.C. Williams. "We didn't do so well the first part of the season so now … we're coming back."