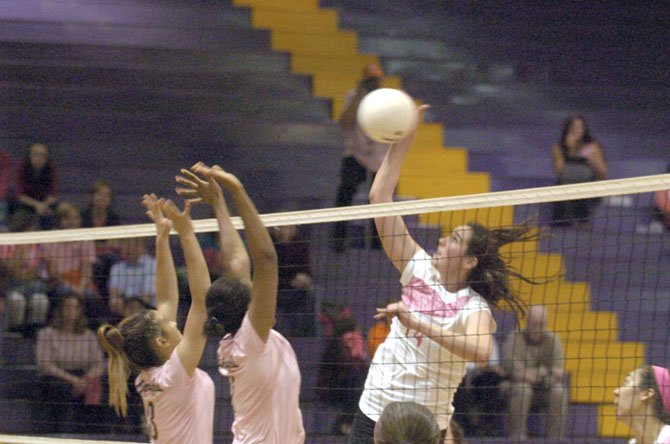 Burke — Fresh off a 22-kill performance against West Springfield on Oct. 9, Lake Braddock senior Natalie Butler stood on the Bruins' home court and said her volleyball skills are lacking.
If compared to her basketball talents, Butler's volleyball ability would finish second. Butler, who stands six-foot-four, has a basketball scholarship offer from Georgetown University. She pushed herself to improve in recent years as she worked toward her goal of playing in college.
Volleyball, on the other hand, is something Butler has played to help stay in shape. Because of her height, she was encouraged to try out as a sophomore and wound up playing for the Lake Braddock JV.
"I don't have any skill set, but they just told me to stand at the net and block," Butler said, "and I'm like OK, I can do that."
Basketball is in Butler's future. But for now, she is a captain on the Lake Braddock volleyball team who is showing passion and hard work—along with the gift of size—can turn someone lacking natural ability into a difference-maker.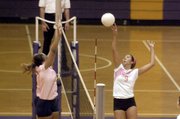 BUTLER LED THE BRUINS to a 3-2 (25-17, 25-17, 19-25, 18-25. 15-12) victory against West Springfield on Tuesday at Lake Braddock Secondary School. The Bruins won the first two sets but dropped sets three and four. With West Springfield having seized momentum, Butler put an end to the Spartans' comeback hopes with a dominant performance in the deciding fifth set. She had six kills, including the match-winner as the Bruins improved to 2-0 in the Patriot District.
Butler finished with 22 kills, including 10 kill-blocks. She had four kill-blocks in the fifth set, alone.
"I've had problems blocking in the past," Butler said. "I guess I was just feeling it this game, so it was good. Once you get one and then you sort of feel it a little bit, you can sort of continue that. My teammates were cheering me on and that just pumps me up even more."
Butler and the Bruins dominated early, capturing the first two sets. West Springfield scored the first point of the second set, marking the only time Lake Braddock trailed during the first two sets. The Spartans proved resilient, however, battling back to win sets three and four, but couldn't complete the comeback.
West Springfield Head Coach Stephanie Noriega said Tuesday's match was one of the Spartans' worst offensive performances of the season.
"Tonight was a different night for us because we've never had as many hitting errors at all this season as we did tonight," she said. "I actually only had one player hit in the positives tonight and you just can't win games when everybody's hitting negatives. The first two sets were really bad. I didn't have a single player hit in the positives in set one and set two. I was very impressed with Lake Braddock tonight. They've definitely improved a lot, but ultimately, we gave it away."
Noriega said Butler played a role in the Spartans' offensive struggles.
"We haven't faced a blocker that's as big as her before and so that's just an adjustment [we needed to make]," Noriega said. "…I think [Butler] was a factor, absolutely. She did a nice job tonight."
"She just plays from her heart. You could tell in the fifth set she made the decision 'We are not going to lose this set,' and she played like that."

—Lake Braddock volleyball coach Aubrey Eaton about Natalie Butler
First-year Lake Braddock Head Coach Aubrey Eaton, who coached the West Springfield JV last season, said Butler is a difference-maker at the net.
"Natalie Butler will make you change your shot," Eaton said. "A lot of players are scared to [hit at an] angle because she's standing right there, ready to block that, so they try to hit [along the] line and most high school players, that's not their first shot."
Lake Braddock jumped out to a 4-0 lead in the fifth set, including three consecutive Butler kills, and the Bruins led by as many as five in the final set. The Spartans chipped away, cutting the Lake Braddock lead to 14-12, but Butler ended the match with her 22nd kill.
"She just plays from her heart," Eaton said about Butler. "You could tell in the fifth set she made the decision 'We are not going to lose this set,' and she played like that."
Savannah Schutzmeister and Jennifer Zimmerman each finished with nine kills for West Springfield. Monica Colon had eight kills and Destini Nelson-Davis had six. The Spartans dropped to 8-7, including 1-1 in the Patriot District. West Springfield will host Lee at 7:15 p.m. on Thursday, Oct. 11.
"I was happy with how my team played the last three sets, but ultimately it never should have gone to five," Noriega said. "Set one and set two is why we lost, not set five."
LAKE BRADDOCK improved to 5-5. The Bruins will travel to face defending district champion Woodson at 7:15 p.m. on Thursday, Oct. 11.
Lake Braddock senior captain Kyra Rodi, who will play volleyball for Division II Hillsdale College in Michigan next year, finished with 12 kills against West Springfield. Her final kill gave the Bruins a 14-10 lead in set five. After two Spartan points, Butler ended the match with a kill.
"Now, being a co-captain with Kyra Rodi, who is going to play volleyball in college, and to be a starter, it's something that I never dreamed of—or being a dual-sport varsity athlete," Butler said. "I'm very thankful of my coaches and everyone who invested in me in the process."
Rodi had high praise for Butler.
"She is one of my favorite people to play with because she is always working hard; she is always busting her butt to get better," Rodi said. "Basketball and school and volleyball; she just does such a good job managing and really giving it her all whatever she's doing. She has grown so much over the past three years."
Not bad for an athlete lacking a "skill set."