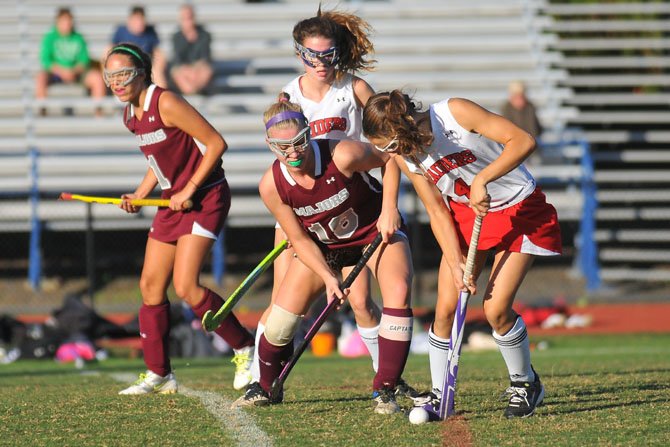 Falls Church — The Mount Vernon field hockey team entered its Oct. 6 contest against Stuart with a 9-3-1 record, having defeated defending National District champion Washington-Lee, 5-0, three days earlier.
Stuart was 2-12 and had scored only five goals all season, four of which came in one contest.
Some of the Majors had taken their SAT tests earlier in the day, and when it came time to travel to Stuart High School for the game, Mount Vernon's bus never showed, leaving the Majors to find their own method of transportation.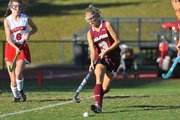 If ever there was an opponent to overlook, Stuart was it for the Mount Vernon field hockey team. The Majors arrived late to the Falls Church-area school and proceeded to struggle against an opponent they probably should have blown out. While Mount Vernon controlled possession for most of the contest, the Majors couldn't put the ball in the cage. Luckily for Mount Vernon, senior Jane Heller cashed in an opportunity late in the second half.
Heller scored on a stroke with 5:35 remaining in the contest to lift Mount Vernon to a 1-0 victory. While a win is a win, the Majors, who have reached the district championship game each of the last three seasons, were likely expecting more.
"I don't think it was a complete shock," Heller said, "but it was shocking that we didn't score as many as we should."
Was there a point in the game when Mount Vernon head coach Jessica Edwards started to get nervous?
"I would have been worried before we ever even left and our bus wasn't there," she said with a laugh. "I would say around 3:10 I was worried already. … We had some definite problems in the circle today, because we played the majority of the game in our offensive 25 and scored on a stroke."
How did Heller feel after depositing her stroke in the cage?
"It was the biggest sense of relief," she said. "I did not want to go into overtime with this team at all, and this was a needed district win because we want to finish first [in the regular season standings] because we [would] automatically have [at least the district's] second seed [in regionals]."
"It was the biggest sense of relief."

— Mount Vernon senior Jane Heller
Two days later, Mount Vernon defeated Yorktown, 1-0, on a goal by Sabrina Smith. The Majors improved to 11-3-1, including 6-0 in the National District. Mount Vernon will conclude its regular season at home against Edison at 7:30 p.m. on Thursday, Oct. 11, and then enter the district tournament.
The Majors won the National District title in 2009 and 2010 and finished runner-up in 2011.
According to statistics from the Washington Post's Web site, Ashleigh Sable leads Mount Vernon with eight goals. Gabby Ocker has six goals, Sagar and Tamara Warren each have five and Serenna Schantz has four.