The Mount Vernon field hockey team has appeared in each of the last three National District championship games, capturing titles in 2009 and 2010.
Six games into the 2012 season and it doesn't appear the Majors plan on slowing down.
Mount Vernon is off to a 4-1-1 start, including a 3-0-1 performance at the "Under the Lights" tournament Aug. 24-25 at Lee High School in Springfield. The Majors won their pool, which included West Springfield, Thomas Jefferson and Oakton.
After dropping its season opener against West Springfield, 2-0, on Aug. 22, Mount Vernon faced Oakton on the first day of "Under the Lights." The Majors beat the Cougars, 1-0, on an unassisted goal by senior forward Lizzy Sagar. Later in the day, Mount Vernon tied West Springfield, 1-1, in a rematch with the Spartans. Sagar again scored for the Majors, this time on an assist from senior forward Tamara Warren.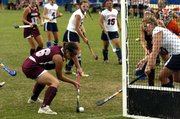 "We were a little bit slow and disorganized when we played Oakton and they actually outplayed us for a good portion of the game, but our goal was a good goal," Mount Vernon head coach Jessica Edwards (formerly Hebel) said. "… Our second game against West Springfield, we played really well. I was very happy with the way that we passed that game."
On the second day of the tournament, Mount Vernon beat Thomas Jefferson, 3-0, and Hayfield, 3-0. Warren, Sagar and senior midfielder Serenna Schantz scored against TJ, with two assists coming from sophomore defender Amber Sable. Against Hayfield, senior midfielder Ashleigh Sable scored a pair of goals and Warren finished with one goal and one assist.
Two days after the tournament, Mount Vernon defeated rival West Potomac, 3-0, on Aug. 27. The Majors have outscored opponents 11-3 through six games.
Edwards said this year's Mount Vernon team has a strong senior class, including five athletes who played varsity field hockey as freshmen: Warren, Schantz, Ashleigh Sable, defender Megan Cole and midfielder Jane Heller, who returns after tearing the ACL and meniscus in her right knee last season.
"It's so much fun," Heller said of returning to action. "It's amazing. I really missed it after a whole year of not playing and it feels great to be on the field."
Edwards said Heller has strong leadership qualities and is a good decision maker.
"Even though we lost her as a player on the field last year," Edwards said, "she was never lost as part of the team because she was always there."
Edwards said Cole and senior Sabrina Smith are two of the Majors' top defensive players. Sagar and senior forward Gabby Ocker are standouts at forward. Freshman midfielder Jessica Miller could be a contributor during the season. Sophomore goalkeepers Lindsay Gardiner and McKenzie Moore have rotated.
Mount Vernon will open National District competition at 7 p.m. on Sept. 4 at home against Wakefield.
"It's definitely one of our goals to be the district champions again, but we really try to focus more on the process of what we need to do instead of the outcome," Edwards said. "Hopefully if our processes are good, are outcome will be good, too."