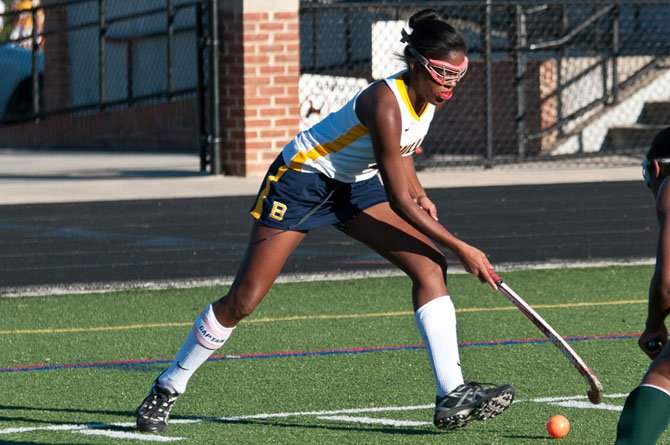 Potomac — Bullis senior captain Idrienne Walker stood on the sideline and encouraged her teammates during the final minutes, a yellow card having reduced her role from playmaker to cheerleader in the Bulldogs' Oct. 11 field hockey contest against St. Stephen's & St. Agnes.
Walker would call the experience "grueling." But thanks to her first-half goal and a strong finish by her teammates, she was able to celebrate when it was over.
Walker's goal with 4:21 remaining in the first half gave Bullis a lead it wouldn't relinquish and the Bulldogs defeated the Saints, 1-0, at Bullis School. Both teams entered the contest undefeated in the Independent School League and ranked in the Washington Post's top 10. Bullis defeated St. Stephen's & St. Agnes, historically one of the Washington, D.C. metro area's top programs, for the second straight season, improved its overall record to 10-0 and seized control of first place in the ISL.
After the game, fans rushed onto the field to help the Bulldogs celebrate their victory.
"I just feel like they should be so proud of themselves," seventh-year Bullis head coach Julie Delinsky said. "The Saints are an incredibly strong team. I respect them a lot. It obviously feels the best when you beat a really good team, so that's sort of how I feel right now. I'm really proud of them because we spent a lot of years getting to the point to be able to play them competitively — and then win. It's a great step for Bullis field hockey."
"I'm really proud of them because we spent a lot of years getting to the point to be able to play [St. Stephen's & St. Agnes] competitively — and then win. It's a great step for Bullis field hockey."

— Bullis field hockey coach Julie Delinsky
Bullis defeated St. Stephen's last season, 3-2, but didn't play well after. Delinsky said the pressure that comes with beating a successful team like the Saints was too much for the Bulldogs to handle as the 2011 season progressed.
"It was kind of the worst thing that happened to us when we beat them last year," she said. "We beat them earlier in the season and I think we just didn't know what to do with that pressure. It was such a surprise. We were kind of used to being the underdog, so when we beat them, other teams are going, oh wait, we've got to take them seriously."
This season, Walker said the undefeated Bulldogs have learned from their mistakes of last year.
"I think that this year we understand that you can't always be like, oh yeah, we're undefeated," she said. "At one point, you could be defeated — at any point, [by] any team. We lost to Sidwell [Friends last year after] we beat the Saints. It could happen at any moment and I think that we realize that now and we take every game seriously ...."
According to stats on the Washington Post Web site, Walker led Bullis with eight goals and eight assists through 10 games.
"I really just love her as a kid," Delinsky said. "I'm so proud of her. She has always had the talent, but the leadership [is now there, as well]. She was so young with that talent, so it's just been really nice to see her become a leader and lead the team. She puts it on her shoulders and I'm glad she does because it was what made the difference today."
Bullis junior Jane Beightol had seven goals and five assists through 10 games, according to the Post's Web site. Senior captain Jordan Sullivan had six goals and five assists, senior Alessandra Clark had five goals and senior captain Colette Roa had four goals and seven assists. Sophomore goalkeeper Sarah Holliday had 35 saves.
Bullis defeated Good Counsel, 5-1, on Tuesday, improving the Bulldogs' record to 11-0. Bullis will host Holy Cross at 4:15 p.m. on Thursday, Oct. 18, and play road games against Sidwell Friends, National Cathedral and Potomac School before the start of the ISL tournament.
"I think you have to accept the pressure and you have to come from a place of no fear," Delinsky said. "You have to want it so bad that you're not afraid of what it could mean to lose and that can't enter into your mind. We've spent a lot of time this year being mentally prepared because it's hard when you have to learn a lesson from a whole season — a hard lesson. These girls are pretty set on not repeating that."