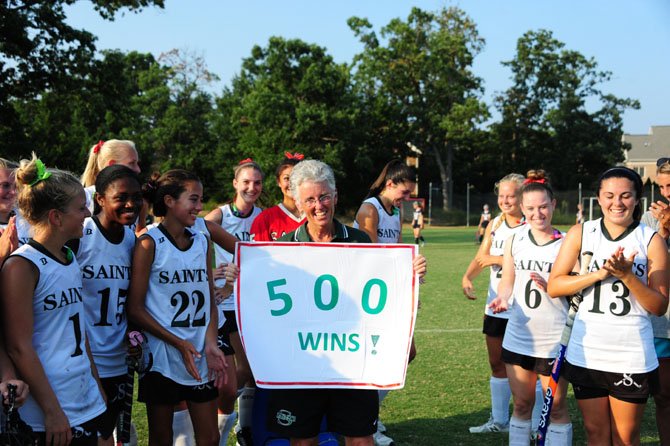 Martha Shaw Peterson played field hockey for St. Agnes School in the early 1980s and went on to play collegiately at Wake Forest.
Peterson's daughter, Wyatt Whitley, a 2013 St. Stephen's & St. Agnes graduate, was an all-ISL field hockey player for the Saints and now plays lacrosse at the University of Virginia.
Peterson's younger daughter, Wynne Whitley, is a freshman in the Saints field hockey program.
While the world has changed in many ways during the last 35 years, there has been one constant with Saints field hockey: head coach Marsha Way.
In the year 1979, the average price of gasoline was less than $1 per gallon, the movie "Alien" was released and Marsha Way started coaching the St. Agnes field hockey team. In 2013, the average gas price is greater than $3, three "Alien" sequels have been produced and Marsha Way, 61, has more than 500 career victories as head coach of the St. Stephen's & St. Agnes field hockey program.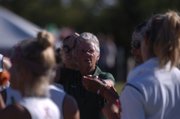 Way, in her 35th season with the program (St. Agnes and St. Stephen's merged in 1991), reached 500 victories on Sept. 10 when the Saints defeated Good Counsel, 2-0. Way's career record improved to 504-82-45 after the Saints beat Mercersburg Academy (Pennsylvania) 5-1 at St. Stephen's & St. Agnes School on Sept. 24. There was a postgame celebration to honor Way for reaching 500 victories, which would place her in the top five nationally, according to the National Federation of State High School Associations.
Peterson, a 1983 graduate, was among those in attendance.
"She made a huge impact on my life because I played field hockey in college at Wake Forest," Peterson said. "To me, that sculpted me. … It was the greatest gift having her as a coach because I loved the sport so much that I went and played in college and it's something that I will always have.
"… It means everything that I can come back (to St. Stephen's & St. Agnes School) and go to my daughter's game. I feel such a part of it because I played here. Instead of just a bystander, I really feel like I'm still part of the team."
Way said the "team" aspect of Saints field hockey to her is one of the most important parts of coaching.
"It's kind of a surreal feeling because we always do it as a team," Way said about reaching 500 victories. "Why am I getting all the attention? That team stuff is real big for me. We're about a team."
"Coach Way is a really unique coach because I respect her so much as a person that when I step out on the field I want to play well for her almost more than for myself."

— SSSAS senior Kathryn Cavallo
Why is Way getting all of the attention? Just ask Jennifer Griffin, a 1987 St. Agnes graduate who played for Coach Way. Griffin, who attended Harvard University and works for Fox News, described Way as "legendary" and said her memories of playing for the coach helped in Griffin's fight against cancer.
"We used to do a chant before we'd go out on the field and we'd bang our hockey sticks on the ground and it sounded like a war chant," Griffin said. "It was, 'She who has the will to win never shall be beat,' and there were times in my life when I hit rough times, including when I had cancer a couple years back, and I remember that chant. … I'll never forget that chant and I can still hear the hockey sticks beating against the ground.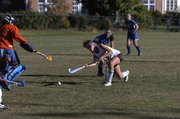 "… She was such a positive role model and influence and she always made us believe that we can do anything."
Way, who grew up on a dairy farm in eastern Ohio, said new faces year after year help bring a sense of freshness to coaching.
"Every team is different," she said. "Every team has a personality and it's always kind of neat figuring out the personalities of that team — not just individuals — how to motivate, how to get the best out of them … that keeps it fresh, because it's like a puzzle every year."
Way has experienced plenty of success along the way. Her Saints teams have won 21 Independent School League season championships, 20 ISL tournament titles, four state championships and produced 12 undefeated seasons. The 1995 team finished 15-0 and outscored opponents 59-0.
When describing Way, several people mention her sense of humor, including how the coach would tell a player who was dragging behind, "My grandmother can run faster than that!"
Way shows her sense of humor when asked about coaching athletes whose mothers also played for Way.
"I feel very old," she said. "I often tease the parents and say I could tell your kids some stories about you."
This year's team is off to an 8-0 start. Against Mercersburg Academy on Tuesday, sophomore Ellie Carson led the Saints with two goals, and senior Sapphire Tubbs, senior Sophie Davidson and freshman Olivia Pugh each scored one during the 5-1 victory.
Seniors Davidson, Hannah Singerling and Kathryn Cavallo are team captains.
The Saints will travel to face Collegiate School at 4 p.m. on Friday, Sept. 27.
"Coach Way is a really unique coach because I respect her so much as a person that when I step out on the field I want to play well for her almost more than for myself," said Cavallo, who will play lacrosse at Columbia University. "She's always positive, always really pushing you to be the best person that you can be. … She's definitely helped me become a stronger leader in my personal life, as well."