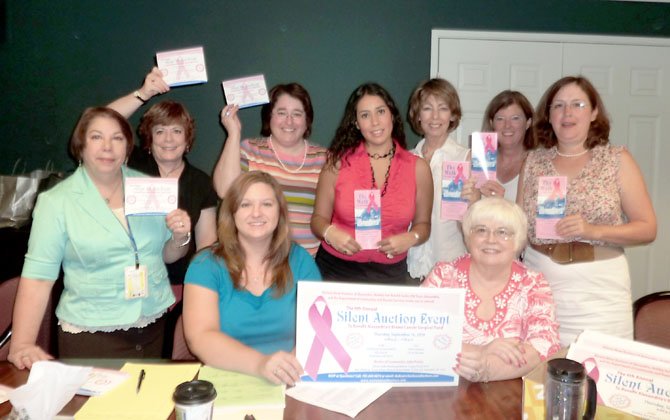 Alexandria — For 12 years, they gathered in the early morning hours each week with the single purpose of helping in the city's fight against breast cancer. But after raising more than $100,000 for the annual walk and spearheading the inauguration of a new surgical fund, the members of Women Mean Business have decided to disband.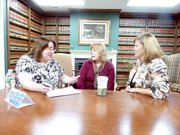 "We're a small group of women and several of us were not able to do it this year," said Carolyn Wilder as a few members of the group met one last time Oct. 9. "We took a hard look at where we were in our lives and decided that there just wasn't enough man power to do a successful event."
Founded in 2000 by Donna Udvari of Burke and Herbert Bank, Donna McIntyre of Today's Cargo and Rose Gentile of Gentile Financial Group, Women Mean Business raised funds for the Walk Fund through an annual silent auction. In 2010, auction proceeds helped launch the new Breast Cancer Surgical Fund.
"Beginning in 2005, we held a silent auction as a fundraiser for the Walk," said WMB president Mary Breiner. "In 2010, proceeds helped launch the Surgical Fund, a public/private partnership between the City of Alexandria and Inova Alexandria Hospital. The fund pays for surgical and anesthesiology expenses at the Medicaid rate for uninsured women who have no means to pay for breast cancer surgery — including lumpectomies and mastectomies."
With full-time jobs and families of their own, the small group of nine women did all the work behind the auction, from soliciting donations to setting up tables the day of the event.
"We worked very well together," said Breiner, a partner in the Old Town law firm of Breiner & Breiner. "We each respected each other's strengths."
Wilder, a retirement coach and president of Great Transitions, was quick to chime in.
"My strength was as a street walker," she said with a laugh. "I was known for walking along King Street soliciting donations for the auction."
Other members of the group included Sally Hitchcock, Carla Clark, Jennifer Harchick and Victoria Almquist.
"This wasn't an easy decision to make," said Almquist, director of outreach at the Campaign for Tobacco-Free Kids. "But several of us had been mulling it over and realized that after surpassing our goal of $100,000, this would be a good time to go out."
Almquist, a seven-year breast cancer survivor, stressed the need for continued support for the city's breast cancer programs.
"We are leaving with a sense of accomplishment — that a small group really can accomplish something." — Women Mean Business president Mary Breiner
"We can't thank our supporters enough for helping us in our mission," Almquist said. "But we want to remind everyone that the fund is still out there. There is still a vital need and this is still a worthy cause. Hopefully we've gotten the surgical fund well-known enough in the community that people will continue to donate."
The women did not hesitate to credit Lisa Baker, the executive director of Alexandria's Commission for Women, Marianne Raub of Helen Olivia Florist and ACT's John Porter for contributing to the success of the silent auction, which began as a small reception in an office lobby and ended last year with 150 attendees gathering at the Holiday Inn and Suites in Old Town.
"The Silent Auction Event was known for its 'look' — beautiful flowers, delicious food and wine and fabulous items ranging from original art and jewelry to oriental rugs and sailing cruises on the Chesapeake," Almquist said. "All of the donated items came from local businesses and supporters and we and the city owe them a huge debt of gratitude."
As the final meeting of Women Mean Business concluded, Breiner, Almquist and Wilder talked of the volunteer efforts of WMB members in other Alexandria nonprofits.
"None of us have stopped contributing to the community," said Breiner, noting in particular Wilder's work with Senior Services and Gentile's involvement with Living Legends. "We've just transitioned into other things. But we are leaving with a sense of accomplishment — that a small group really can accomplish something."
For more information or to donate to the Oct. 20 Walk to Fight Breast Cancer, visit www.alexcancerwalk.com or call 703-746-3123.