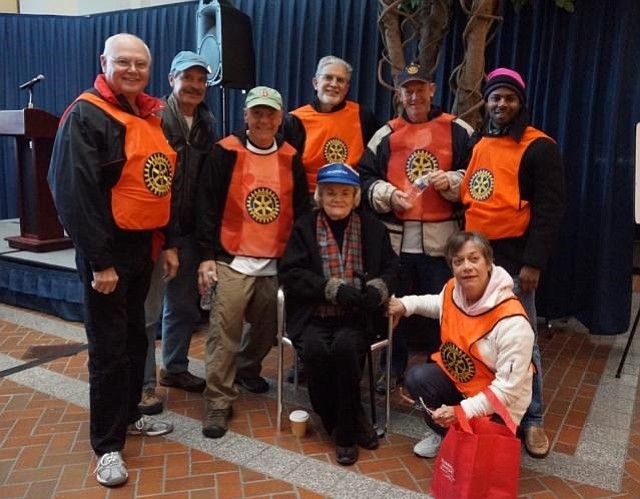 Vola Lawson was a force to be reckoned with. A breast cancer survivor who had a double mastectomy, she founded the city's Walk to Fight Breast Cancer in 1994 while she was still undergoing her own treatment and serving as city manager.
For nearly 20 years, the Walk raised funds to provide more than 8,000 uninsured and under insured Alexandria women with free mammograms and other diagnostic screenings. Following Lawson's death in December of 2013, the Vola Lawson Breast Cancer Memorial Fund was created to honor Lawson and continue to support the mission of providing critical care to city residents.
"We have a lot of exciting events planned to raise awareness and funds for breast cancer care," said Pat Miller, an organizer of the events. "Due to budget cuts, the annual city walk was permanently canceled in 2014, but the community has come together to honor Vola and support the fund, which continues to provide cancer prevention education and free mammograms for low-income women."
According to the Center for Disease Control, breast cancer is the most common cancer in women, for all races and ethnicities. It is the leading cause of cancer deaths among Hispanic women, and the second most common cause of death from cancer among white, black, Asian/Pacific Islander and American Indian/Alaska Native women.
CDC statistics show that about 237,000 cases of breast cancer are diagnosed in women and about 2,100 in men each year in the U.S. About 41,000 women and 450 men in the U.S. die each year from breast cancer.
"Early detection is key to treating breast cancer," Miller said. "A mammogram can help do this, but unfortunately many low-income women cannot afford one. That's why the Vola Lawson Breast Cancer Memorial Fund was created — to cover the costs of mammograms and other screenings so that all women can receive early care when needed."
Events scheduled to raise money for the Vola Lawson Breast Cancer Memorial Fund include:
Couture for a Cure – Oct. 4, 7-9 p.m., Springfield Town Center at Springfield Mall - Breast cancer survivors, community members, physicians and advocates will take to the runway in a fashion show event. Sponsored by the Association of Alexandria Radiologists, admission is free.
Breast Cancer Awareness Walk – Oct. 13, 8-11 a.m., Oakland Baptist Church, 3408 King St. Fellowship and light refreshments at 8 a.m., walk starts at 9 a.m. $10 donation. Sponsored by the historic Oakland Baptist Church, contact Nechelle Terrell 571-426-0569.
Los Tios Restaurant Night – Oct. 16, 2615 Mount Vernon Ave. Dine at Los Tios and a percentage of the evening's profits will benefit the Vola Lawson Fund. Contact Anuja Miner anujam43@gmail.com.
Del Ray Farmers' Market – Oct. 13 and Oct. 20, Breast Cancer Awareness T-shirts, 2311 Mount Vernon Ave. Awareness T-shirts will be on sale. Sponsored by the Alexandria Friends of the Commission for Women, contact Jacinta Greene greenejacinta@gmail.com.
Yates Automotive Give Your 2 Cents Program – throughout the month of October, Yates Automotive 317 E. Braddock Road. Yates will donate two cents of every gallon of gas purchased to the Vola Lawson Fund.
Mammogram Screening – throughout the month of October and ongoing, free screenings provided with a referral from Neighborhood Health, 2 East Glebe Road. Call 703-535-5568 to schedule an appointment for a referral.
To donate to the Vola Lawson Breast Cancer Memorial Fund, visit https://www.razoo.com/story/Volalawson or send a check payable to the Vola Lawson Breast Cancer Fund to: ACT for Alexandria, 201 King Street, Suite 200, Alexandria, VA, 22314. All donations are tax-deductible.