To the Editor:
A happy celebration to mark a new start and the end of what has been a lengthy and life-changing ordeal for me and my family is planned. As many of you know, the belated and miserly settlement from the School Board in my case did not cover the devastating personal financial costs battling the false accusations against me incurred. The costs impacting my family have run into tens of thousands of dollars and remain a heavy burden.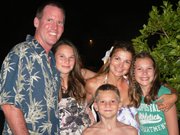 Through a friend, the good people at Sully's Restaurant & Lounge in Chantilly have offered it as a venue for a celebratory party. We have a set date for the gathering of Friday, Dec. 14, from 5-9 p.m.
As part of the event, we will have a Silent Auction to raise money to defray my remaining unpaid legal costs. I have already received commitments from supporters who have offered to donate to the cause: signed baseball from Willie Mays and other items from Major League Baseball players; autographed soccer jerseys from David Beckham and Landon Donovan.
What I am asking for from my friends and supporters is anything of value that we could add to the list for the Silent Auction. This could be sporting event tickets, rounds of golf, sports equipment, hairdressing appointments, barber services, car washes, beach vacations, Mary Kay cosmetics, Miche Bags, gift cards — anything of value that people would bid on, with the proceeds going to help end this personal and financially painful event.
Finally, the capacity at Sully's is about 250 people. I would really like to pack the house on Dec. 14 to mark this new beginning and fresh start. Anything [the readers] could do to promote this event with friends would be greatly appreciated and would mean so much to me and my family.
Note
In January 2010, Sean Lanigan, a P.E. teacher at Centre Ridge Elementary and a youth soccer coach, was accused of inappropriate conduct by a student. He was suspended from work, jailed and forced to raise more than $100,000 to defend himself. In May 2010, a jury acquitted him of all charges, but he then had to fight the Fairfax County School Board for reimbursement of his legal costs. He received a partial settlement, but is still out $60,000. He now teaches P.E. at South Lakes High.
Thank you so much for your help and support. Financial donations may also be made via Pay Pal at https://www.paypal.com/cgi-bin/webscr'cmd=_s-xclick&hosted_button_id=NAQMB62VU7NFU.
Sean Lanigan
Centreville