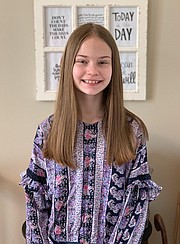 On March 21, 10-year-old Ava Buhr of Fairfax marked the most important milestone of her young life – she hit five years without a recurrence of cancer, meaning that she's officially considered cured. And on Sunday, June 23, she'll be honored as a survivor during a fundraiser for the DC Candlelighters Childhood Cancer Foundation.
This nonprofit is holding a shaving event to raise money for local families who have children fighting cancer at Inova Fairfax, Georgetown, Children's and Walter Reed hospitals. It provides these families with financial support when they find themselves in an unimaginable crisis.
Called "Take it to the Alley," the fundraiser will run from 1-4 p.m. at ​King Street Oyster Bar​, 12 S. King St. in Leesburg. To show solidarity with those who lose their hair while undergoing chemotherapy treatment for cancer, various people will have their heads and beards​ shaved while their friends and family members whoop with glee.
The fun also includes face painting, a silent auction, food trucks and refreshments.
Attendees can play a part by cheering on those being shaved; they may also help the cause by making donations, buying T-shirts and bidding on silent-auction items.
For more information or to create a shaving team, call 202-827-6544 or email DCCandlelighters@gmail.com. To learn more about the organization, go to www.DCCandlelighters.org.
AS FOR AVA, she'll be going into fifth grade in the fall and is a healthy and cheerful girl. But when she was just 2-1/2, she was diagnosed with acute lymphoblastic leukemia (ALL). "She had a random fever in August 2011," said her mom, Jeannie Buhr. "It went away, but it came back, the week before Thanksgiving. Her pediatrician did blood tests and said, 'I think she has leukemia.'"
Ava then saw a hematologist at the Center for Cancer & Blood Disorders in Falls Church. After a bone-marrow test, the diagnosis became official. "You're a deer in the headlights and you think, 'That can't be happening – she's only 2," said Buhr. "I was frightened because I thought I was going to lose my child."
But when she learned of the high success rate of the treatment for this disease, nowadays, she also figured Ava would be treated and well in a couple months. However, leukemia treatment for girls takes 2-1/2 years.
Ava received chemotherapy via a port in her chest, plus monthly spinal taps. The chemo went into her spine and up to her brain. "Thankfully, she was so young, she doesn't remember any of it," said Buhr. "She also had to take steroids, which made her moody and angry for a week every month. Other than that, she was in good spirits."
However, because the chemo wiped out Ava's immune system, she was isolated from her friends. Toward the end of her treatment, though, the nonprofit Hopecam gave her preschool classroom a laptop so she and her classmates could connect. And on March 21, 2014, she finished treatment.
Ava will still have to have blood tests once a year, for the rest of her life. But other than that, the bad stuff is all behind her and she can concentrate on her family, friends, school and anything else she fancies. An avid gamer, she loves to play Roblox and Minecraft on the computer. She also learned how to play the viola this year and is looking forward to playing in her school band next year.
"When Ava was going through treatment, I wanted to raise awareness of the need for a cure," said her mother. "Kids go through adult chemo from 30 years ago because there's not enough funding to develop new treatments." So Buhr put her words into action and, as a result – through organizations such as DC Candlelighters – she has raised thousands of dollars for childhood-cancer research.
But with so much more work to be done and so much money still needed, she continues the fight. That's why the upcoming, DC Candlelighters shaving event is so important to her. Besides that, said Buhr, "DC Candlelighters was one of the first childhood-cancer organizations to make hospital visits to families that are in-patient with their children in the Northern Virginia area.
"What makes DC Candlelighters so special is that they are an all-volunteer organization, with no paid staff, and 100 percent of their donations received go directly toward serving local-area families," she explained. "The majority of their board members are parents who have had children with cancer, so they understand what a family is dealing with and the financial burden this disease can be.
THE BUHR FAMILY first met DC Candlelighters when Ava was newly diagnosed.
"They were the first ones to visit us in our hospital room and provide support and a wonderful bag full of goodies," said Buhr. "We attended all of the amazing events they hold annually for families, like Mother Daughter Spa Night and Family Bingo Night. These events give families a welcome escape to enjoy time out, have fun and be normal again.
"DC Candlelighters brought light to our family when we were in our darkest place," she continued. "So I hope people will please consider making a donation to their 'Take it to the Alley' shaving fundraiser on June 23 so that they may continue spreading their light of warmth, love and support."