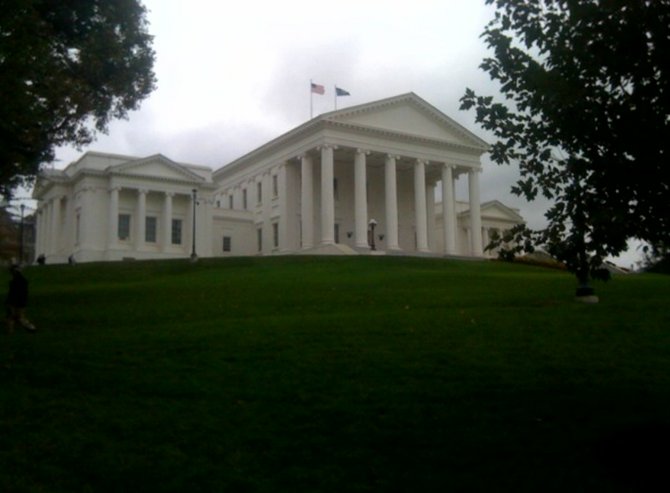 Every year, the Virginia General Assembly convenes several weeks after the session to react to the governor's vetoes. The "veto session" frequently conflicts with Passover — the Jewish festival that commemorates the flight of the ancient Israelites out of slavery in Egypt. That posed a problem for former Del. David Englin (D-45). Should he remain true to his religion and skip the important legislative session. Or should he remain true to his constituents?
"During my first year in the General Assembly, the reconvened session fell on Passover," said Englin, who now lives in California. "That's when I learned that the Virginia constitution gives the General Assembly zero flexibility over the date of the reconvened session, which happens after every regular session."
The state constitution stipulates that the General Assembly must convene on the sixth Wednesday after the session. Because of the way the calendar falls, that frequently coincides with Passover. For Jews, the conflict creates a difficult decision — one that had Jews such as Englin and state Sen. Adam Ebbin (D-30) working on one of Judaism's most important holidays.
"For Jews, it's an important holiday," said Ebbin. "And every member of the General Assembly should be able to practice their religion."
Because the language at issue is in the text of the constitution, the only way to create flexibility is by creating another constitutional amendment. That's what will be before voters this November. The language on the ballot won't say anything about Passover, though. Instead, it will present voters with a question about whether the constitution should be amended to allow the General Assembly to delay the veto session by a week.
"The fate of the commonwealth will not rise or fall with this amendment," said Englin. "However, voters should support it because it makes sense to give the General Assembly a small amount of flexibility over its own calendar to deconflict with important events, without allowing so much wiggle room that people could play politics with the schedule."
The amendment has no organized opposition, and passed the General Assembly overwhelmingly. It's received very little attention, though. Many voters remain unaware that it's even on the ballot.
"The way I explained it at the Fairfax County Democratic Committee when they asked me to explain it to them, I said it's one view but if you really hate Jews just vote no," joked Del. Scott Surovell (D-44).