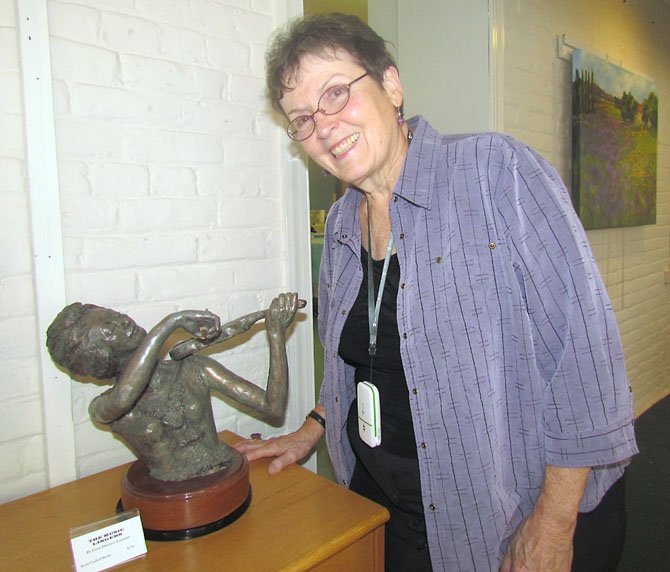 After a 25-year career on Capitol Hill, Gwen Harrison Lockhart turned her sights to the fine art of sculpture. A few years after her retirement in 1990, Lockhart enrolled in her first art class with The Art League of Alexandria, located in the Torpedo Factory Art Center. "It's something I always wanted to do," said Lockhart. "Now, sculpture is my long suit."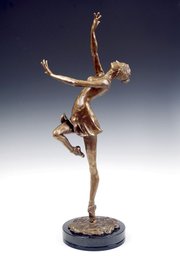 Lockhart grew up in Burrton, Kan., and attended Hutchison Junior College before going on to the University of Missouri. She subsequently moved to California for two years to work as a journalist, before moving on to a position with former Congressman Mailliard in Washington, D.C. After seven years with that office, Lockhart became chief minority clerk for the House Committee on Merchant Marine and Fisheries and remained there for 18 years before retiring. "I watched C-SPAN regularly for three years after retiring," said Lockhart, admitting it took her some time to disconnect from the hard deadlines and fast-paced environment. Just six months ago, Lockhart moved from Alexandria to Greenspring retirement community in Springfield.
While cultivating her sculpting talent, Lockhart became involved with The Art League of Alexandria, serving seven years on the board of directors including one year as president and board chairman, from 2005-2006. In 2006, she received an Alex Award from the Alexandria Commission for the Arts for Excellence in Service to the Arts. Lockhart, who has shown her work at various galleries and art shows in both Virginia and South Carolina, also has a permanent home for her sculptures at The Loft Gallery and Art Center in Occoquan, Va.
She has a studio in the Art Center where she tries to work three to four days a week. When asked about the inspiration for her work, Lockhart said, "My head is so full of ideas, I have difficulty deciding what I want to do next!"
Lockhart's sculptures feature commissioned works, as well as those created from models and photos. "The commissioned works really got me launched," said Lockhart. She named her most prized sculpture "Anna" after Anna Pavlova, which is a 31-inch-tall bronze ballerina. "I limit most of my pieces to editions of eight, but I optimistically increased 'Anna' to an edition of 50," said Lockhart. "Eventually, my dream is to do a life-size 'Anna'!" The original "Anna" took Lockhart one-and-a-half years to perfect.
Lockhart credits her mother for her creative ambitions. "My mother pushed me when I was young; she encouraged me to draw." After all, artistry runs in Lockhart's family history. "My great grandfather was a portrait artist, and my sister was wonderful with pastels," said Lockhart. With National Arts and Humanities Month upon us, Lockhart hopes that schools are able to support and encourage experimentation with art. "Undoubtedly, art education is an area that should continue to be encouraged," said Lockhart.
Lockhart hopes those with an interest in her sculptures will contact her at The Loft Gallery and Art Center or by email at glxpres@gmail.com.