Police Investigate Reston-Area Homicide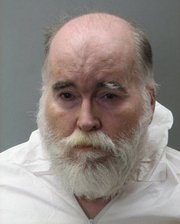 Police are investigating the death of a Reston-area woman as a homicide. Officers were called to a home in the 11300 block of Geddys Court around 9:40 a.m. on Tuesday, Oct. 16, for the report of a shot person. They located an adult female with an apparent gunshot wound inside the home. She was transported to Reston Hospital Center and succumbed to her injuries.
Charles A. Hamilton, 59, of 11310 Geddys Court in Reston, was taken into custody at the home. He was charged with murder. The deceased has been identified as Ruth Allen, 68, of 2039 Durand Drive in Reston. The deceased and suspect were sister and brother.
Anyone with information is asked to contact Crime Solvers by phone at 1-866-411-TIPS/8477, e-mail at www.fairfaxcrimesolvers.org or text "TIP187" plus your message to CRIMES/274637 or call Fairfax County Police at 703-691-2131.
Reston Hospital Chest Pain Center Re-accredited
Reston Hospital Center has completed its re-credentialing and continues to be the only Chest Pain Center in Northern Virginia accredited by the Society of Cardiovascular Patient Care (SCPC), an international not-for-profit organization that focuses on transforming cardiovascular care by assisting facilities in their effort to create communities of excellence that bring together quality, cost and patient satisfaction.
In order to receive the SCPC accreditation, Reston Hospital has achieved a higher level of expertise in dealing with patients who arrive with symptoms of a heart attack. They emphasize the importance of standardized diagnostic and treatment programs that provide more efficient and effective evaluation as well as more appropriate and rapid treatment of patients with chest pain and other heart attack symptoms. They also serve as a point of entry into the healthcare system to evaluate and treat other medical problems, and they help to promote a healthier lifestyle in an attempt to reduce the risk factors for heart attack.
To become an Accredited Chest Pain Center, Reston Hospital Center engaged in rigorous evaluation by SCPC for its ability to assess, diagnose and treat patients who may be experiencing a heart attack. To the community served by Reston Hospital Center, this means that processes are in place that meet strict criteria aimed at:
Reducing the time from onset of symptoms to diagnosis and treatment

Treating patients more quickly during the critical window of time when the integrity of the heart muscle can be preserved

Monitoring patients when it is not certain that they are having a heart attack to ensure that they are not sent home too quickly or needlessly admitted to the hospital