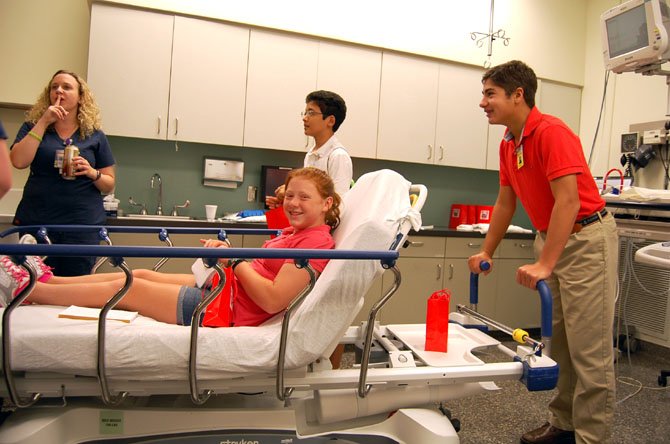 Arlington — What did you do on summer break? For most students if they are lucky, they might answer that their parents took them on vacation to the beach, others might answer that they filled their summer schedule with sport activities, summer school, or even hung out in front of the television all summer long. Whatever the case may be, only a select few can return and share their experiences about Camp Med.
Camp Med is a middle school summer medical camp held at the Virginia Hospital Center in Arlington. The camp started in 2004 with 10 students but these days the capacity is up to 48 with some having to wait until next summer to enroll. The objective of the camp is to attract students from middle school who are interested in health care and expose them to different types of medical professions. The camp is a week long with each day dedicating itself to a different department. The campers also travel to Northern Virginia Community College in Springfield two days out of the week for activities such as CSI, CPR for Health Savers, pathology and forensics. The CPR training certifies all students in CPR.
Mary Ellen Gannon, coordinator for the camp, is in charge of the students throughout the week: "The campers are all in middle school. I think it is a good age for them to attend because they are just exploring their options for the future. When they enter high school they have a better understanding of what they are interested in."
One day, the trauma room is filled with campers surrounding an empty hospital bed. The nurse asks if anyone wants to be the patient and immediately all hands fly to the air. The campers are asked to do role-playing of real life situations. The campers are assigned different duties as nurses, asking questions and entering data.
The volunteer nurses at the Virginia Hospital are happy to expose the campers to their profession. As Mary Ellen Gannon said, they too think it is important for students to be exposed to the medical field at an early age.
"I think it's a great opportunity for students. It gives them something fun and educational to do over their summer break. They are only just seeing the tip of the iceberg of what we do, but hopefully it's enough to impact them," said Taryn Overman, one of the volunteer nurses.
Photo Gallery
Camp Med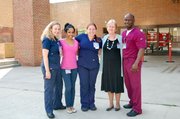 Middle school students learn about medical profession at Virginia Hospital Center over the summer.
Click Photo for Flash