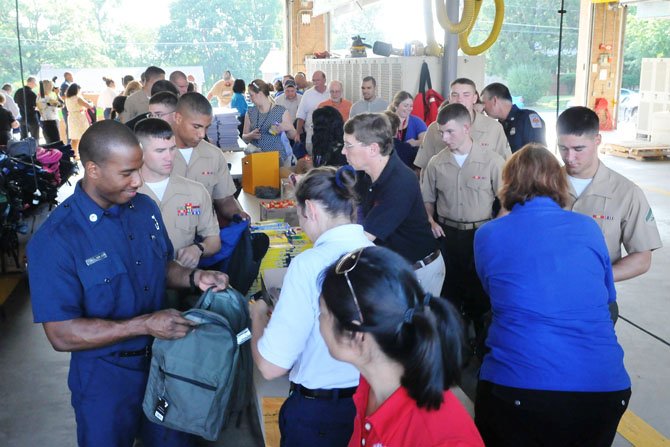 Mount Vernon — More than 2,800 backpacks filled with school supplies were distributed to more than 60 schools, shelters and non-profits in Fairfax County, Alexandria and Washington D.C.
In its eighth year, the Back To School Backpack Drive organized by Fairfax County Fire Captain II Willie F. Bailey surpassed its goal of 2,500. On Thursday morning, Aug. 30, more than 100 volunteers gathered in the empty bay at the Fairfax County Fire Station #11 Penn Daw to fill the back packs. Tables were set up in the north bay, notebooks, writing paper, pencils, markers are more were individually placed in the backpacks.
"When we are not running 911 emergencies, we are trying to find other ways to get out into the community. Today, its giving-away backpacks and school supplies to make sure every child starts school with the right tools to help them succeed." — Fairfax County Fire Captain II Willie F. Bailey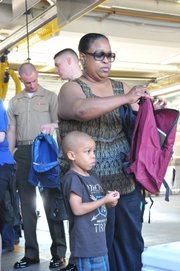 Donors and volunteers joined ranks to fulfill the task. Marines from the 8th and I Street Barracks in D.C. competed with each other to see how they could keep form and fill multiple bags through one walk through. Smiles were abundant. Progressive Firefighters, Local 2068, Apple Federal Credit Union, Alexandria Fire Department, Nationwide Credit Corporation, Fire & Rescue Retirement Association, Modern Technology Solutions, Rotary Club of Tysons Corner and SEIU – Virginia 512 all donated funds and/or supplies and spent the morning preparing the backpacks. Kids R First, Medocracy Inc., Fairfax County Board of Supervisors and Primo Restaurants were also major donors and supporters.